Everton manager David Moyes keen to praise Mikel Arteta
Everton boss David Moyes has paid tribute to former player Mikel Arteta ahead of their game with Arsenal on Wednesday.
Last Updated: 27/11/12 5:03pm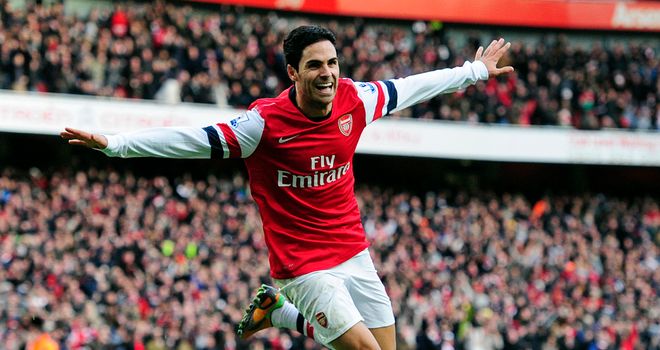 Moyes helped mould Arteta into an accomplished midfielder after he came to the club from Real Sociedad following an indifferent two years at Rangers.
The Spaniard then joined the Gunners in August 2011 for £10m and has since become an integral part of Arsene Wenger's side, with Moyes quick to point out the player's attributes.
"He is a very gifted footballer, he is a great lad to work with," said Moyes.
"I think the manager (Wenger) was probably surprised what he offers. He is a great professional, a really good footballer and I'll be delighted to see him back - just disappointed it is in an Arsenal jersey.
"I see Mikel now and when they are having a bit of a huddle he is the one who is the leader and I think they look to him, he has taken on a lot of the leadership qualities in that side.
"He was part of the rebuilding process that had to take place at Everton when we tried to develop the team and move it on.
"We took Mikel on loan from Real Sociedad after he'd been at Rangers and it hadn't quite worked for him.
"We were a bit unsure when he first came here. He was a bit lightweight to play in the middle and so we played him off to the side and he was great there for us, he really was.
"Eventually he moved on to be a real key figure in that period and was a big part of us developing and moving Everton forward."
As for the game itself, Moyes has promised Arsenal a tough test, although Wenger's side were the last team to win at Goodison Park in the league back in March.
"Arsenal are a good team and that is why they continually finish in a Champions League spot so it is a tough game," he added.
"We have been playing quite well and no-one gets an easy time at Goodison."