Leighton Baines was content to see Everton take a 'decent point' at Manchester City
Leighton Baines believes Everton remain in a good position in the league after taking a 'decent point' against Man City.
Last Updated: 02/12/12 5:30pm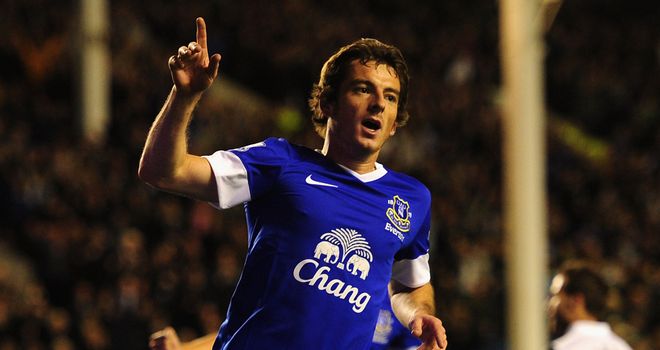 The Toffees, who remain in touching distance of the top-four positions, have become draw specialists.
Saturday's 1-1 draw at the Etihad Stadium was their seventh stalemate in nine games but unlike after some of the previous stalemates - and despite their frustration over the penalty - they felt it was a good point gained rather than two dropped.
England international Baines said: "It is a decent point.
"We were under quite a bit of pressure in the second half and that point in the game I think we would have been happy with a point.
"We were still trying to hit City on the break but they played well in the second half.
"I think we defended well and this is a much better point than some of the other points we have picked up in recent weeks. This is the best of the bunch.
"When you come away to a team like this you expect a tough game.
"In the second half we showed that grit we need to come away from sides like this with a point."
Satisfied
Everton's recent sequence has seen them slip from second at the start of October to sixth but Baines is still satisfied with the position.
The left-back, who overcame a hamstring worry to feature, said: "We are probably where we feel we deserve to be.
"We have conceded quite a few late goals, which has disappointed us.
"It is easy to look back and say we could have had an extra few points here or there, but there is no point. You'd drive yourself barmy.
"We look forward now. We have got another tough run of games in front of us.
"There are no 'gimmes' in this league. We have got to find a way to start getting three points."