Everton 'serious' about FA Cup, say Leon Osman and Phil Neville
Leon Osman and Phil Neville say Everton are going to mount a serious challenge to win the FA Cup this season.
Last Updated: 08/01/13 3:40pm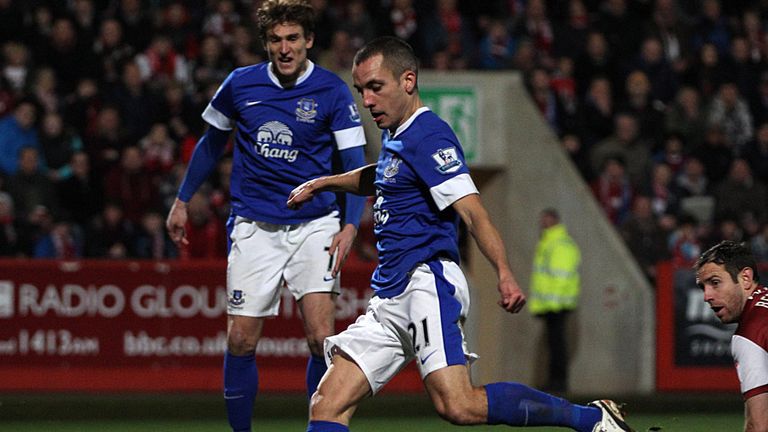 The Toffees comfortably avoided a third round banana skin on Monday night, hammering Cheltenham 5-1 to book a clash with either Bolton or Sunderland.
Osman, who will celebrate the 10th anniversary of his Everton debut this weekend against Swansea, says it is time he won his first trophy with the club.
Osman, who scored against Cheltenham, said: "I've been made aware that this weekend will be 10 years since my debut so it will be a nice occasion.
"I have great memories of those 10 years but I don't think we've won anything since I've been playing. I'd love to finally win something for the club.
"The manager signalled his attitude towards the game. He put a strong team out and we went out there with the attitude that it was going to be difficult and we had to perform.
"We got to the semi-finals last year and there is a real determination to do well every year. You need a bit of luck in the cup and you need to perform on the occasion. We are looking to do that in every round we can this year.
"The draw for the next round (away to Sunderland or Bolton) is difficult. You are always looking for a home draw in the cup.
"But we put out a strong team at Cheltenham and we are hoping to go as far as we can in the competition."
Captain Neville confirmed that boss David Moyes is serious about their cup bid: "The manager told us the day before the game that he wants to win the FA Cup and that was shown with the team he picked at Cheltenham.
"He could have chosen to rotate the squad after the Christmas fixtures which was busy but he wanted to keep the momentum going.
"Unless there are any FA Cup replays, we've only got one game a week for the rest of the season so tiredness shouldn't be a factor."