Leon Osman says current Everton team is the finest he has seen since his debut a decade ago
Leon Osman believes the current Everton team is the best he has seen in his ten years at Goodison Park.
Last Updated: 09/01/13 2:04pm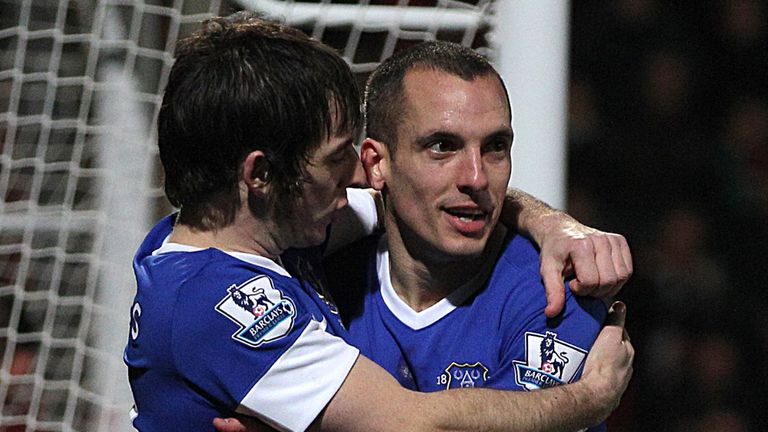 The Toffees currently lie fifth in the Premier League and are through to the fourth round of the FA Cup, after a stunning 5-1 display over Cheltenham on Monday.
Everton midfielder Osman admits the test is now to maintain their impressive form.
Osman, who was among the scorers at Whaddon Road on Monday, said: "I would say this is probably the best Everton team in my time here.
"We've had some good teams over the years and some good seasons where we've finished high up in the league and got to cup finals.
"But, with the football we are playing and the games we are winning, I'd have to say this is the best team.
"We've got a bit of variety to our game. We pass but we are happy to go direct as well and mix the game up. That's difficult to defend against I suppose.
"We hope we are getting closer to winning a trophy. We've been developing as a team and we are finding the way to win games now.
"We drew a lot at the start of the season. Hopefully we've found a way to turn them into wins and that will put us in good stead until the end of the season."
But Osman warned: "Maintaining things for the whole season, that will be the test.
"In the past we've managed it for half a season, most of the time during the second half of the season.
"We've had a reasonably good start this time and can we maintain it over the whole season? We need to have a bit of luck, keep our important players fit for long spells."
The midfielder hailed Moyes, and said he hopes his Everton side can win a trophy to reward the manager's 11-year reign at Goodison Park.
"The manager has been a fantastic servant to the club. If he was to ever leave, I'd be disappointed," he said.
"But you don't always get what you deserve. You don't just get to win a cup because you've done well and deserve it.
"It's up us as a group of players, manager and staff included, to try and turn what is deserved into actually doing something."