Phil Neville backing Everton to get over their Swansea disappointment quickly
Everton captain Phil Neville is backing his side to get over their disappointing draw with Swansea as soon as possible.
Last Updated: 13/01/13 1:41pm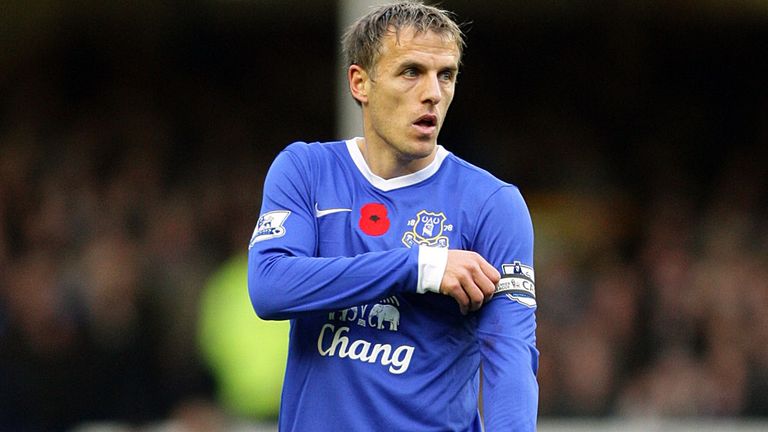 The Merseysiders remain in a healthy fifth place in the Premier League but they missed the chance to make up ground on Spurs and dropped a couple of points on Chelsea, who crushed Stoke 4-0.
But Neville thinks Everton will have their traditionally strong second half of the season and expects them to push hard for a place in the Champions League.
"We need to keep believing and thinking like that, it is the only way to be," Neville said. "We want to finish in the top four, and not just fourth. We want to catch Chelsea and Man City.
"We have got to keep aiming high, not waiting for teams to catch us up. We can't look behind us. We have got to be positive, look forward to the next games.
"Every game in the Premier League in the next month or two is going to be really difficult.
"It is that time of year, the pitches are getting softer, a bit more bobbly and the weather is cold. It is about digging out results rather than playing fantastic football. This was a disappointing draw but we live to fight another day."
Everton had numerous opportunities to break the deadlock but did not overwork Swansea goalkeeper Michel Vorm.
Neville had one of the better chances early in the second half when he took over an attack from Seamus Coleman and forced Vorm into a low save.
The 35-year-old said: "It was slightly disappointing because we had two or three chances.
"Against teams like Swansea, who drop a bit deeper, you need to take the individual chances.
"We didn't take them but maybe a draw was a fair result in the end.
"We need to play with more speed but we are still in a great position in the league to attack the second half of the season and we are still in the FA Cup."