Everton's Sylvain Distin only one Premier League game away from 400 appearances
Everton's Sylvain Distin is only one Premier League game away from achieving an impressive personal landmark.
Last Updated: 13/02/13 4:40pm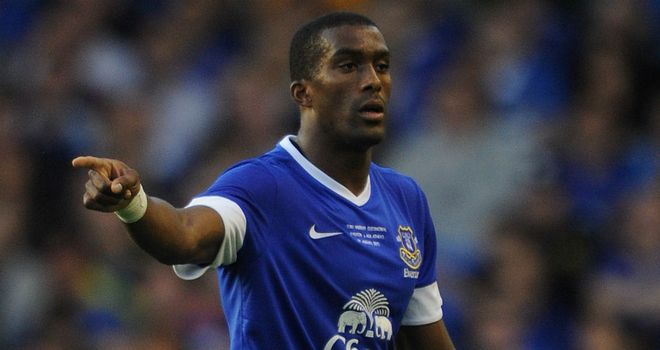 Distin, 35, missed out on becoming the first foreign outfield player to make 400 Premier League appearances last weekend when illness ruled him out of Everton's clash against Manchester United at Old Trafford.
The centre-back will now have to wait to pass the landmark as the Toffees resume their FA Cup campaign with a trip to Oldham.
Distin has made 28 appearances while on loan from Paris St Germain at Newcastle, 178 appearances for Manchester City, 77 for Portsmouth and 116 so far for Everton.
He said: "I'm not there yet so I'm not pleased. But if it happens then it's obviously something pretty amazing.
"I don't count games to be fair so you could say to me 200, 300, 500 and I would just have said 'yes'. But overall it's not just the quantity of games, it's the quality as well.
"I just take games one after each other and enjoy my time, but they are the kind of records that you can only be pleased about.
"I've been here (in the UK) for a long time and I enjoy it here. Do I feel English? No. Do I feel comfortable? Yes.
"When you think about it, it's something you have to be proud of because playing in the Premier League is not easy and staying there is even harder."