Everton manager David Moyes urges Nikica Jelavic to find his way back to goal
Everton boss David Moyes insists faltering striker Nikica Jelavic will have to solve his goalscoring crisis on his own.
Last Updated: 02/03/13 2:24pm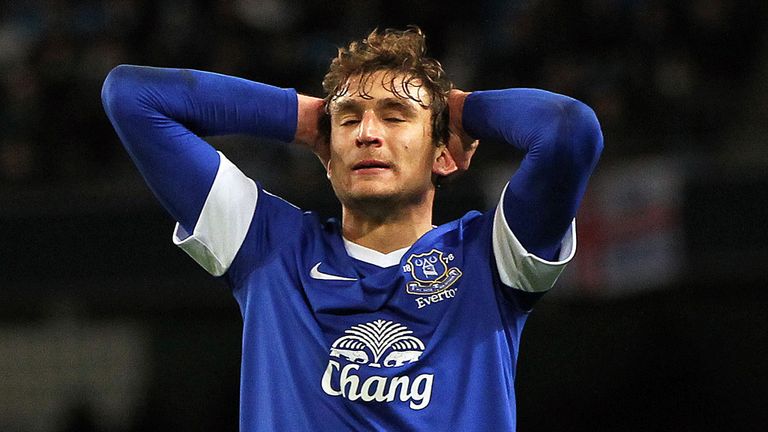 The Croatia international scored 11 goals in 14 matches at the end of last season but has struggled in front of goal this campaign.
Jelavic has not scored in his past nine appearances, with his only strike since 9th December coming in the 5-1 win over Cheltenham in the FA Cup but Moyes has backed Jelavic to find a solution as they prepare to entertain Reading on Saturday.
"I am not that cuddly a fella or one for putting my arm around you all the time but every manager has their own style," said the Scotsman.
"I don't know if Jela is the sort of boy who would want me to do that any way.
"Any forward who has played the game and been through barren spells will tell you they practice more or don't do any in the hope it comes back without it. I think it is every man for themselves in that.
"We would like him to get his goals and lift his performances and if we get that it will be a big help to the team.
"The team need him. I said last week a lot of what we do this year will be determined by how well Jela scores between now and the end of the season.
"It is noticeable (his lack of goals) because everyone talks about it.
"We tend to be as honest as we can and not hide away from anything and at the moment undoubtedly we need Jela to find a way of scoring some goals.
"He needs to get a goal but I don't know if one goal will make everything right. If I saw him getting four goals in four games then I would start to think 'This is what we want'.
"You have to find a way of making that happen again but we could do with him standing up and getting us some goals now."
Everton have also been without the services of Kevin Mirallas, who has been out with a hamstring injury.
But the Belgium international scored in the 3-1 midweek FA Cup fifth-round replay victory over Oldham to boost Moyes' attacking options.
"His first two or three games back were a gentle introduction and we hope he kicks on now after the goal as he looked a bit sharper in his general play the other night," added Moyes.
"We are hoping we can get a bit more from Kevin because he was a big goalscorer in Greece (having signed from Olympiacos in the summer).
"A lot of our players have settled in quickly - Jelavic did incredibly quickly - and although Kevin started the season well I think he is still coming to terms with the Premier League.
"I am hoping the last 10 or 12 games he can help us as it is his job to score goals with Jelavic, Victor Anichebe, everyone."