Everton keeper Tim Howard breaks two bones in his back
Everton have confirmed that Tim Howard will be out for at least four weeks after breaking two bones in his back.
Last Updated: 09/03/13 12:07pm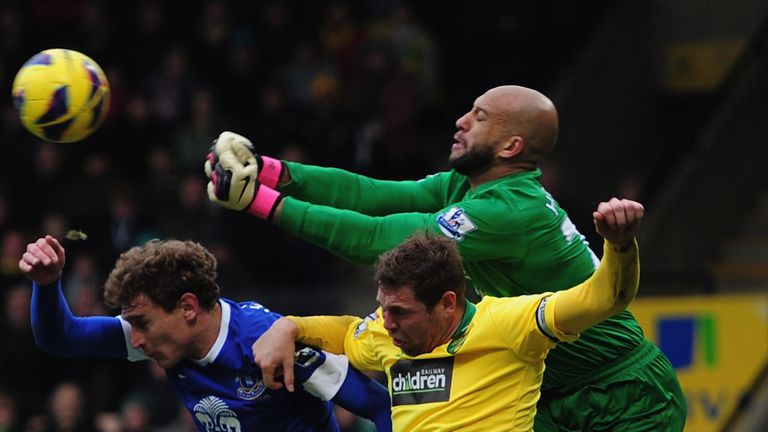 Manager David Moyes revealed that the American sustained the injury in the fifth round replay with Oldham last last month.
Slovakian international Jan Mucha, who made his Premier League debut in last weekend's 3-1 win over Reading, will face Wigan.
"Tim is out against Wigan. He has broken two bones in his back," Moyes told the club website.
"We don't think he will be out for the season. I read that (Newcastle's Fabricio) Coloccini could be out for seven weeks (with a similar injury) but we are not sure how long Tim will be out for because, obviously with a goalkeeper, he has to dive around and hit the ground.
"I have let him go away for a few days. It might be that, if everything goes well, he misses next week's game as well [against Manchester City] and then because of the international break he might be close after the rest because that would be four weeks."
Moyes revealed Howard had not suffered an injury to weight-bearing bones and also that they were not part of the player's spine.
"He has two fractures, but they are not bones that are supporting anything. It is off the spine. They are not weight-bearing.
"It just needs a bit of healing time. It is not like a pure fracture where you need to wait to look at it.
"It is a question of whether he can cope with the pain. The bones will heal themselves but it's not good."