Victor Anichebe out to please 'nightmare' Everton boss David Moyes
Victor Anichebe says boss David Moyes is driving Everton towards a top-four finish.
Last Updated: 08/04/13 11:22pm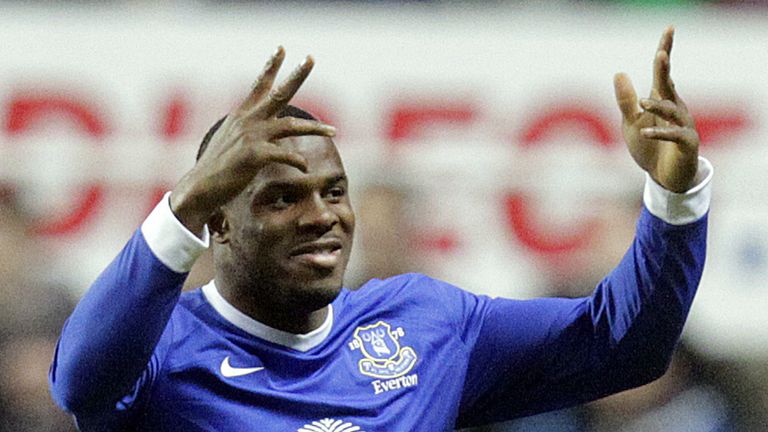 The striker, who had a fine game in the 2-2 draw with Spurs on Sunday, says Moyes is sometimes a "nightmare" to work with, but he insists the Scot is still capable of leading Everton into the Champions League.
Moyes' men are now six points off fourth-placed Spurs, but crucially the Toffees have a match in hand against Arsenal on April 16 - three days after they face second-from-bottom QPR.
"It's easy for us to get up for every game. That's the way the manager is," Anichebe said. "Sometimes he's a nightmare but he's right - every single game is important.
"When I say he's a nightmare I just mean he's so demanding. He's always on you, every single day. That just shows the kind of character he is. He wants to be the best. Hopefully we can fulfil that."
Everton also have to face Liverpool and Chelsea before the end of the season, but Anichebe insists Champions League qualification is achievable.
"We need to aim as high as we can," said Anichebe, who may well lose his place for the QPR game due to the return of Steven Pienaar and Marouane Fellaini from suspension.
"We just need to keep plugging away, win as many games as we can, and we'll be in and around it. We're not far off now. There's definitely a chance.
"We were disappointed we didn't win. It was a really good performance against Spurs. It says a lot about our desire because we're missing two big players.
"Whoever comes in does well - and that just shows what the manager has instilled in us. When you get your chance, you have to take it."