John Heitinga warns Everton face a tough game against QPR
Everton defender John Heitinga insists a victory over QPR at Goodison Park on Saturday cannot be taken for granted.
Last Updated: 09/04/13 9:49am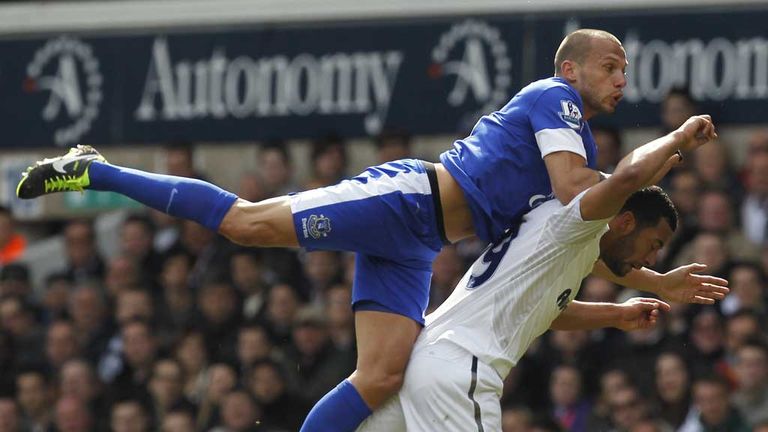 Rangers are seven points adrift of safety in the Premier League after their 1-1 draw with Wigan at Loftus Road at the weekend, but Heitinga is preparing for a tough battle as Everton look to continue their own push for a top-four finish.
Heitinga told the Liverpool Echo: "I think we've got the same desperation as QPR. It won't be an easy match. I remember the game at their place was tough as well.
"Everyone thinks it's easy and you'll win 4-0 but that's not the way football is at the moment. They will come to defend.
"At White Hart Lane it was Tottenham who made most of the game and on Saturday it's up to us to make the game.
"We don't have the biggest squad but if you see our performances over the whole season they've been really good and with seven games to play we're still in the hunt. We know we must beat QPR to fight for a European place though."
The Dutchman is also pleased with his own form at present after making his fourth successive start for the Toffees in Sunday's 2-2 draw at Tottenham.
"I've been playing for a long time now and in football you can go from hero to zero and back again," said Heitinga.
"At the beginning of the season I was thinking I should start but the manager decided something else and so I was a little bit disappointed.
"Then after that I wasn't playing my best football so it was easy for the manager to put me on the bench.
"The only thing I could do was work hard. In the end the quality is always there but when you work hard it comes out."