Everton's Phil Jagielka ready to grow up and become captain next season
Phil Jagielka has admitted responsibility is something he needs as he prepares to become Everton captain.
Last Updated: 02/05/13 3:40pm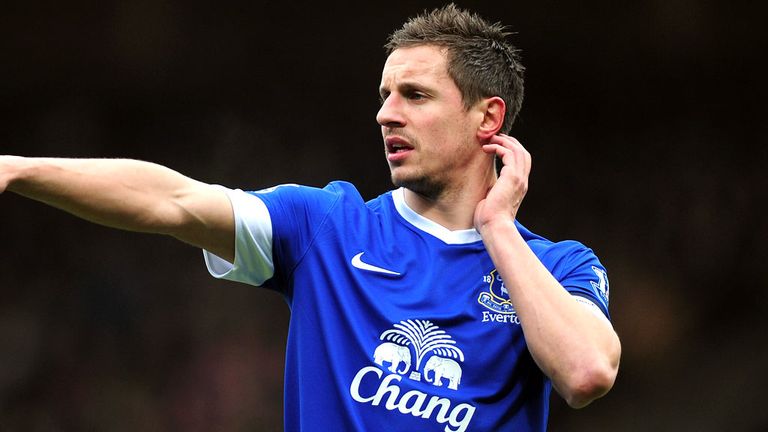 Jagielka will lead the team when Phil Neville moves on in the summer and he hopes he will be as successful in the role as his predecessor.
The England centre-half claims they are very different characters but it is a challenge he is looking forward to and says it has come at the right stage of his career.
"Responsibility is something that I need," he said. "I'm still a bit of a big kid when it comes to messing around - afterwards. Everyone says what a fantastic captain Nev has been, that he has been such a professional.
"People sometimes don't understand that. He conducts himself right in every aspect, on and off the pitch.
"Maybe I can be a bit juvenile at times. That's the character I am, that's the character he is.
"I'm sure that we will be very different captains, but hopefully we will have a very similar impact on the squad.
"I'm 30 now, not 16 and 17, so the time has come for me to grow up.
"If someone has got a problem, or they need help and advice, rather than hiding from it, I will try to help them out."
Jagielka has deputised as captain at times this season in the absence of Neville, but concedes that he is still getting used to the idea that he will be taking on the armband full-time.
"It's a strange one," he said. "Nev is still here and I am still vice-captain. It's not like he's retired or injured. He is going to play again.
"It hasn't sunk in properly, as technically it is not mine yet. Just being captain when he has not been here has been a fantastic honour.
"I've have been here for a decent amount of time. I pretty much know how the club works and it was brilliant when the manager pulled me in to confirm it.
"Different things can happen. New players can come in and they can take it, so it's good that it's me.
"It probably won't hit me until next season when I haven't got someone else to hide behind. It's something that I have got to look forward to - even if I have to sit next to the manager for the team photo!"