Craig Levein thanks Sir Alex Ferguson for his influence on other managers
Craig Levein has thanked Sir Alex Ferguson for the help he has given to other managers throughout his 39-year career.
Last Updated: 08/05/13 6:07pm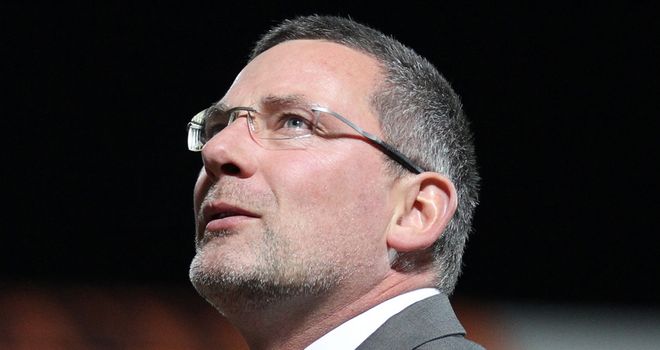 Ferguson announced his retirement on Wednesday, having won 49 trophies in the most successful managerial career Britain has ever known.
And while Levein never worked with the United boss, despite both spending spells in charge of Scotland, he expressed his thanks to the fellow Scotsman.
"It's just been a remarkable career. Everything he has touched has turned to gold," said Levein, who was in charge of Scotland between 2009 and 2012.
"I don't have any great experience of working with him. If I remember correctly, he was the manager of Scotland when I went as a young player to Israel.
"But what I have been very fortunate to do is meet him on a number of occasions, particularly when I was manager of Scotland.
"Everybody will talk about how successful he has been but my personal experience has been how helpful he has been to me.
"Nothing was a problem for him and he was always ready to give advice.
"We had a situation with Darren Fletcher that we had to deal with and he was hugely helpful in that matter as well.
"Just on a personal level, I would like to thank him for taking the time to help me in my career.
"He's not only looked after himself but he's managed to help other managers along in their careers as well.
"It's the time that he's prepared to give people that I was impressed with.
"I went down to discuss something with him at Old Trafford last year and he sat with me for half an hour just before the match.
"There were some things I needed to ask him and he couldn't have been more helpful.
"I know, as a manager, that period before a game is quite intense and he was so relaxed and so helpful."
The former Hearts, Leicester and Dundee United boss believes Ferguson has changed the game, and there will not be a figure like him again.
He said: "The game won't allow it, the game has moved on from when Sir Alex started.
"It's very unusual now for a manager to remain in place at one club for any length of time. It's also very unusual for a manager to control the whole club.
"There are very few managers anywhere actually doing that now because there are so many different layers of management coming in.
"So we might see very successful managers but I would question whether there would ever be another manager who would be so successful at two clubs."
And Levein has added his backing to Everton manager David Moyes, who has emerged as one of the main contenders for the job.
"I would love to see David Moyes get the job," he said. "He's another guy who I have the highest admiration for. He is a real football person.
"In some ways, he has done something similar at Everton as Sir Alex has done at Manchester United - there is a longevity about David's spell at Everton.
"I tend to judge managers based on whether they are punching above their weight or not and I think Everton have punched above their weight for years and years.
"Again, I think he is a man who has principles and is an honourable guy as well. And, of course, he is Scottish."
Levein added: "It has pressures, of course it has, but it's a brilliant job.
"You cannot afford to look at a job like that and say it's daunting because Sir Alex has been there before. You've got to look upon it as an opportunity."