Phil Neville wants focus on David Moyes when Everton host West Ham
Phil Neville insists his final match at Goodison Park should be a celebration of manager David Moyes.
Last Updated: 12/05/13 2:17pm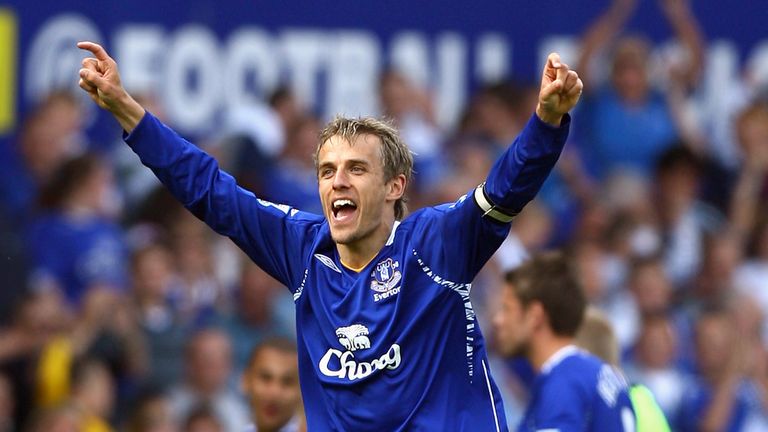 Moyes will end his 11-year association with the Toffees at the end of the season in order to take charge at Manchester United and Neville believes the Scot deserves to take the plaudits.
"With the events of this week for Everton, for me personally, the manager, players, supporters and chairman, it will be one of those special days we remember for the rest of our lives," said Neville, who is battling to overcome a knee injury ahead of the match.
"Forget my situation, just in terms of the celebration of the manager and his achievements it is going to be an unbelievable day and one I can't wait to be involved in.
"I am actually a little bit glad (the attention will be on Moyes) in a way. I don't want any fuss, I've not deserved the fuss, I've just been a player.
"Better players than me have left this club and have achieved more than me at this club."
Neville has spent eight years at Everton since his move from Manchester United and has made 303 appearances for the club.
"You never think it is going to get to this stage where you get to a point where you are leaving a club you have loved playing for, have captained and have a real special space in your heart," he said.
"We are at that time on Sunday. I just want the opportunity to say thank you.
"I also want to put my feet on that turf again, to wave and clap and do a lap of honour with the players and my family.
"This has been an unbelievable period in my career. People say I've not won a trophy and, yes, that has been a big disappointment.
"But in terms of happiness, meeting friends, learning, growing up as a person this has been an incredible period.
"I'm not sad, I'm proud and this will be a celebration for me."