David Moyes hopes his achievements will be remembered at Everton
Departing manager David Moyes hopes his 11-year reign at Everton will be remembered for the club's progress.
Last Updated: 12/05/13 2:55pm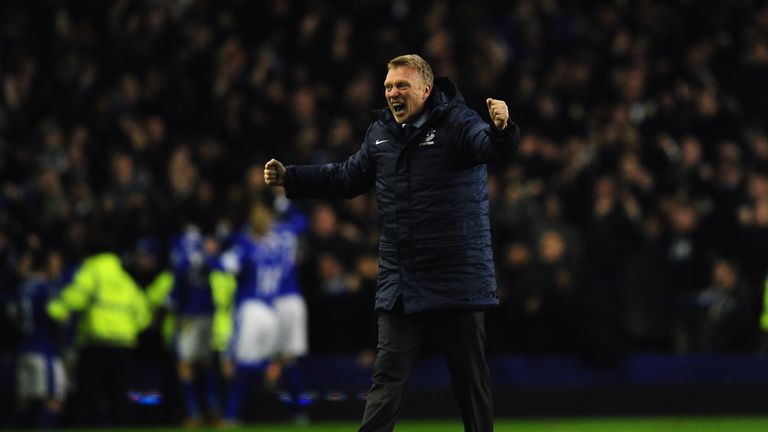 Moyes, who will replace Sir Alex Ferguson at Manchester United in July, has led the Toffees to consistent top-seven finishes and even Champions League qualification, despite them not winning a trophy for nearly 20 years.
And ahead of his final home game as Everton boss on Sunday, Moyes has said he hopes his good work will be remembered at Goodison Park.
"When you become a football manager you're never sure if someday you'll be sacked and criticised for the work you've done.
"I hope that most Evertonians would see we have moved the club into the higher reaches of the Premier League more often than they had previously.
"Over the years we've had brilliant players come through the door but more importantly I think I have had great men and I would never have been given any opportunity to succeed at Everton if it wasn't for the help that I have received from all the players who have worked under me.
"I have brought nearly all the current players to Everton in my time and I do feel disappointed to be leaving them.
"They are all very much a part of what I have been trying to achieve at Everton and they have all bought into it.
"I have spoken to them and explained my situation, which they fully understand.
"It goes without saying my only interest is that we try to win the last two games of the season."
The Scot also paid tribute to the people behind the scenes, and in particular Everton chairman Bill Kenwright.
"He has been incredibly supportive, desperate for his club to keep improving and I believe he should be congratulated for the way Everton as a football club has moved forward."
And Kenwright added: "Not long after David joined us I said I believed that he could become one of Everton's greatest managers, not long after that I said he could become one of football's all-time great managers.
"He has worked tirelessly throughout to achieve his goals and his 11 years at Everton has proved pivotal to both him and us in a mutual journey of respect.
"And now, as we begin the search for the next man with the right credentials to manage a club as special as this one I know we do so with Everton in great shape - a fact that is in no small part down to David Moyes."
And departing captain Phil Neville, for whom this will also be his last appearance at Goodison Park, said: "In all my years in professional football I have never met a harder-working man than the gaffer.
"He's driven by an insatiable desire to win and his commitment levels are incredible.
"I know he can leave Everton after next week's game secure in the knowledge that every single day of his time here he has given nothing less than 100 per cent."