Phil Jagielka says Everton players 'gutted' by departure of David Moyes
Everton's captain-elect Phil Jagielka admits the squad are "gutted" by the departure of David Moyes.
Last Updated: 13/05/13 4:22pm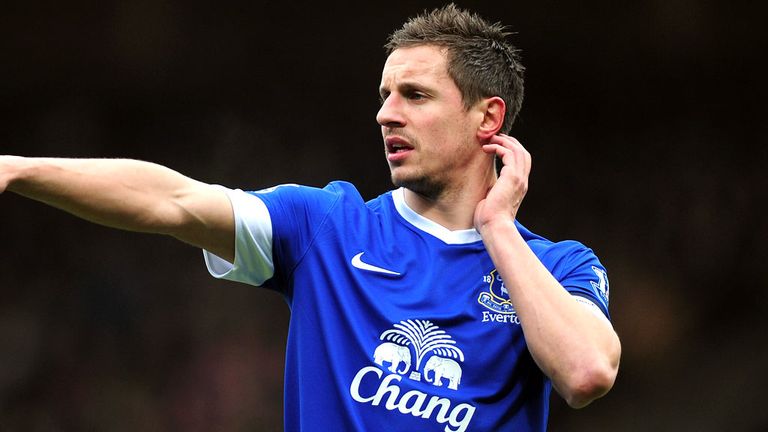 After 11 years at Goodison Park Moyes is heading to Manchester United to take over from Sir Alex Ferguson.
Moyes was given an emotional send-off by the Toffees faithful during the 2-0 win over West Ham and Jagielka - who takes the armband on a permanent basis from Phil Neville next season - says whoever replaces the Scot has a fine base to work from.
"The guy has been here 11 years and has transformed the playing staff, the coaching staff, the facilities from top to bottom," said the centre-back.
"In the changing room we are obviously all gutted he will be leaving us next season but we understand the way football is.
"Frustrations must have been high. Teams around us that are potentially not doing as well but getting more finances made it a tough couple of years.
"To the same extent he has probably had the best squad he's had for a long time but he is still leaving that behind and we are still looking forward to next season."
Jagielka says it is impossible to assess just how big a void Moyes' departure would leave.
"That's a question I can't answer. Ask me in six months or a year's time and we'll find out," he added.
"At the moment he has done a lot for the club but he is leaving it in a great state.
"For the manager who comes in his first phone call should probably be to David Moyes to thank him for the squad he put together.
"It is going to be an interesting summer to see who does come in but we are proud to have had David Moyes as our manager.
"There are only two players who he hasn't brought in and even those two - Tony Hibbert and Leon Osman - have gone on to have great careers.
"He has done a lot for everyone, not just the players here but others who have gone on to do other things and win trophies - the manager has a big role to play in a lot of people's careers."