Phil Neville has indicated he is keen to replace David Moyes as Everton boss
Phil Neville admits it is flattering to be linked with the manager's job at Everton and believes he has the experience.
Last Updated: 23/05/13 11:52am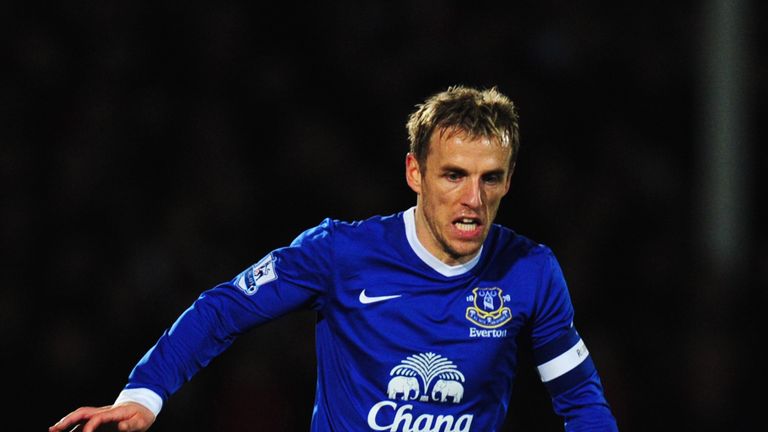 Neville, who has called time on his Toffees playing career, is one of the names in the frame to replace David Moyes at Goodison Park now that the Scot has moved on to Manchester United.
And the former England international believes the set-up at Everton is such that there is no reason for the man who replaces Moyes to struggle.
"It is flattering to be linked with the Everton job," said Neville, quoted in The Times.
"There is a structure in place where the new man who comes in will not have that much to do.
"I am at the end of my career and I am looking to get into coaching and management. It's just whatever direction the club want to take.
"It would be a good job. But I know there are players who have gone into jobs and failed. I have prepared. I have prepared for the last five seasons and I have some nice decisions to make.
"I have had a lot of experience, studying coaching practices. I have been away with England Under-21s. I'm half-prepared for what I'm going into."
Backing
Moyes has moved to a club that Neville knows well having played nearly 400 games for United and the 36-year-old is backing his old boss for a lengthy stay at Old Trafford.
"He is probably going to be there for the rest of his career," added Neville. "It is that kind of club.
"They invest in a certain kind of manager and that is why he is the best man for the job. There is no one else they could have invested in who would offer the same longevity.
"The pressure will always be there and he will have to win games and win trophies. He will do that.
"People talk about Jose Mourinho being the Special One but the gaffer has something special about him in his own way.
"Every season at Everton, people would say the club is going to finish in the bottom half but that never happens. He sucks everything out of everyone. That shows he's got something.
"People ask me about Sir Alex and David Moyes, and hard work, determination and drive are the key things, not unbelievably special sessions, just hard work. No one works harder."