Premier League: Everton set to hold talks with Roberto Martinez in next 48 hours
Everton are set to meet Roberto Martinez in the next 48 hours to discuss the vacant managerial position at Goodison.
Last Updated: 29/05/13 1:28pm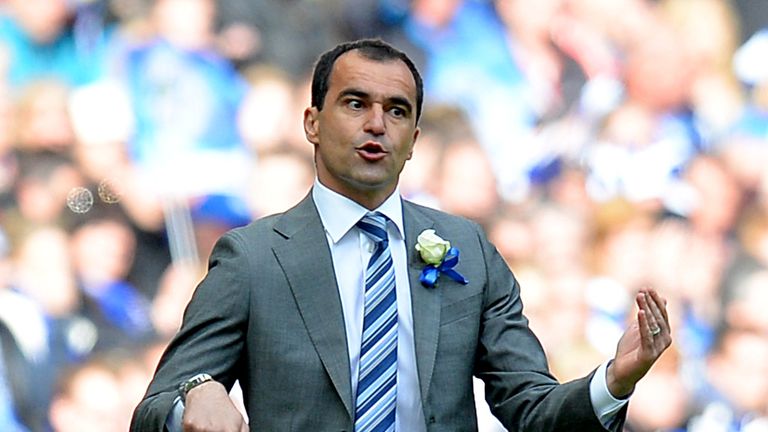 Martinez is a short-priced favourite with bookmakers to succeed David Moyes as Everton boss, although the Merseyside club are also considering two other remaining candidates.
The Spaniard has decided to leave Wigan and has been given permission to speak to the Toffees by Latics chairman Dave Whelan.
Martinez told Whelan at a meeting on Tuesday that he wanted to move on after four years at the helm.
Whelan will not stand in the way of the 39-year-old, who led Wigan to a memorable 1-0 victory over Manchester City in the FA Cup final before they were relegated from the Premier League, but he will demand a reported £2million in compensation.
"Roberto wants to move on and I have got to accept it," said Whelan.
"Everton rang me and I said they have permission to talk to him. I would never stop Roberto talking to football clubs.
"We will let him go but he's on a 12-month rolling contract so if he moves someone will have to buy him out of his final year.
"We are still friends, we will always be good friends and he will always be a friend of Wigan Athletic."
Whelan said the club's relegation had been the main factor in Martinez's decision to seek a new challenge.
"He does not feel he is up to the task of getting us back into the Premier League," added the Wigan chairman.
"Football is football and I understand where he is coming from.
"Everton are a nice club and have a great chairman in Bill (Kenwright) and he is an honest man."
Popular
Martinez, 39, who spent six years as a player with the Latics, has been a popular manager in his four years at the helm.
He has had to contend with relegation battles in each season but has regularly earned plaudits for his positive style of play.
The former Swansea manager has been heavily linked with Aston Villa and Liverpool in each of the past two summers.
Wigan survived relegation from the top flight on the last day of the season in 2011 and last year won seven of their last nine games to produce a remarkable escape.
That was a feat that proved beyond them this term but they did claim handsome consolation with their stunning FA Cup final victory over City.
Meanwhile, Wigan defender Gary Caldwell believes Martinez has the potential to become one of the best managers around.
"He wants to play football the right way and gives players the freedom to do that and gives you great belief in what you are trying to do," Caldwell told Sky Sports News.
"I think tactically he is one of the best I have worked with. I think he showed that in the Cup final playing against a great Man City team, I think tactically he out-thought Mancini on the day and he won that battle, and I think he can do that in most games.
"He thinks about the game, he is very passionate about the game and players respond to him and give him all they've got.
"I think definitely he has got the potential to do that [become a top manager].
"He is a very young manager still and has got a lot of experience behind him, and that can only be good for him and furthering his career."