Everton chairman Bill Kenwright offers assurances to new boss Roberto Martinez
Everton chairman Bill Kenwright has told Roberto Martinez he will not have to sell players wholesale over the summer.
Last Updated: 06/06/13 5:03pm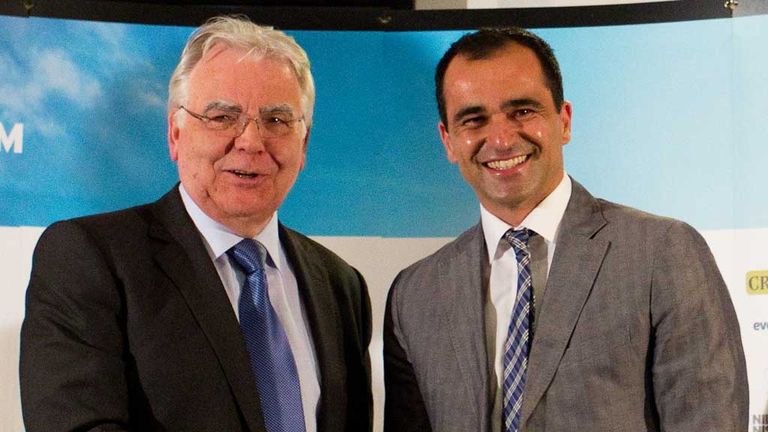 Martinez was confirmed as Everton boss on Wednesday after leaving his post as Wigan manager and he inherits a strong squad from David Moyes.
The Spaniard has already had talks with Kenwright to discuss the future of the club and although the chairman's words were largely encouraging, he admitted Belgium international Fellaini could leave if he invokes his £15m release clause.
"He talked about a couple of new signings and he talked about the squad and asked 'Do they need to go?'" Kenwright said of his discussions with Martinez.
"I said 'No, they absolutely do not have to go', (although) there is one (Fellaini) that has a get-out, which everyone knows."
Kenwright also promised Martinez he would be able to use any money raised by player sales for new signings.
"We are desperate to find new owners and new investment, but he will get support from everyone at the club and all the financial support," added Kenwright.
"By that I mean if he sells someone, he won't get 80 per cent of that, he'll get 100 per cent.
"Plus he has a certain amount of money for the transfer window which David was going to have.
"He was as interested in what I wanted as much as what he wanted.
"I said to him 'I can't sit here and give you a line because we all know money is everything in football - this is the money we've got and I will try to improve on it."
Meanwhile, Martinez insists he is happy to answer criticism from Everton fans who think he is not the right man for the job.
"In football it is normal and you need to have a debate because everyone has an opinion," he said. "I think it is healthy people are questioning my appointment.
"It is something which keeps you desperate to see what you can do and one day turn them around so they are happy with the work you've done.
"I need to answer all the critics with work and that is nothing different to what I've done in the past.
"The only thing I want is for every fan at Everton to be proud of what we are trying to do."