Moyes' market moves
Sky Bet's Jamie Casey reveals the betting patterns on the potential transfer targets of Manchester United boss David Moyes
Last Updated: 11/08/13 3:58pm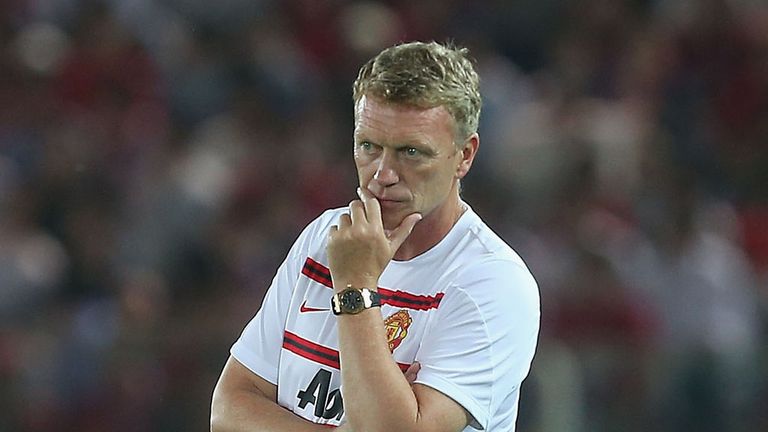 With the Community Shield just days away, some Manchester United fans appear somewhat aggrieved by David Moyes' apparent inability to significantly strengthen his squad since inheriting the biggest job in the game.
Having comfortably won the Premier League last season, United's retention of key players so far this summer is perhaps being overlooked in some quarters, but then the fans have become used to getting what they want.
Betting patterns often portray wishful thinking from a fans' perspective and so it is no surprise that Sky Bet have received an excessive amount of wagers on Cristiano Ronaldo, Juan Mata and Cesc Fabregas to join the champions this summer.
Whether it's optimism or genuine anticipation, Sky Bet can reveal where the money's going on Moyes' supposed targets, in no particular order.
Marouane Fellaini
Since the end of July, the markets on Marouane Fellaini's future have enjoyed a re-birth, with his odds to leave Everton repeatedly slashed from 5/4 before settling at 1/4. As for the Belgian's next club market, the money's only going one way and that's on United, who have accumulated almost double the amount of stakes than Arsenal. United are currently 2/7 favourites to sign Fellaini, with the Gunners a distant second at 10/1. Chelsea, who were once Sky Bet's favourites for his signature, have drifted out to 28/1 following a significant decline in interest. On Wednesday, new Everton boss Roberto Martinez denied having an offer on the table from his predecessor Moyes, or any other club for that matter.
Cesc Fabregas
For all United's interest and confirmed bids for the former Arsenal midfielder, Cesc Fabregas has remained odds-on to stay at Barcelona since the market was opened last month. Betting on his next club commenced in April, though, and, as with Fellaini, United lead Arsenal in the number of stakes received and the total amount of money riding on the move. As short as 6/4 in late July, United are now out to 4/1 to sign him this summer, though they remain favourites ahead of Arsenal, who have enjoyed a burst of betting interest this week. After two rejected bids and a hesitant attitude from the player, Barcelona sporting director Andoni Zubizarreta claims Manchester United have given up hope on the move.
Leighton Baines
Surprisingly, United are yet to come in with a second bid for Leighton Baines after Everton rejected their initial advances in June. Nonetheless, the bookmakers are confident the deal will be resurrected and completed before 3rd September, with Sky Bet going as short as 1/6 that it happens. Tottenham are listed as second favourites at 14/1, but with little substance punters have barely broke double figures in backing Spurs, with United so far out in front that the bookmakers are heading for a major loss if Moyes can convince his old club to sell.
Juan Mata
Even if the rumours that Jose Mourinho isn't a fan of Juan Mata are remotely true, a move for the Spaniard to the champions is likely to hinge on Chelsea's pursuit of Wayne Rooney, a target the Blues may have thought was well within reach. Chelsea remain odds-on to sign the England striker, who is likewise a similar price to leave for any club, but United are showing their resilience and, more particularly, their reluctance to sell to a domestic rival. With all that in mind, United's price to sign Mata in this window has drifted out to 8/1, having been as short as 6/4 in the height of Rooney part-exchange deal rumours. With no bets on Mata to United this month as yet, fans appear to be losing hope of an agreement being reached.
Luka Modric
Although there's seemingly little substance, certain reports suggest Moyes could turn his attention to Luka Modric rather than Fellaini, if indeed he has given up on Fabregas. The punters aren't convinced just yet, though, with a relatively low number of bets placed on United being Modric's next club and those that have been staked are generally of low value. The wagers are so infrequent that United's price has changed just once from the initial odds of 3/1, to the marginally shorter fraction of 5/2. Tottenham (10/1) are the only other side to attract any sort of interest in the Modric market, albeit only a third of the modest total United have so far amassed.
Sami Khedira
Given Chelsea are odds-on to sign Real Madrid midfielder Sami Khedira, this one seems unlikely to materialise. Thought to be available for around £15-18m, the classy Germany international would certainly save the club a few pounds, but whether he is an actual potential target for Moyes is just guesswork for the moment. United where linked with Khedira last year, but, as well documented, much has changed at the club since then and Moyes seems motivated by the bigger fish in order to bait the fans. At present, Chelsea are 8/15 to sign Khedira and have received over double the number of bets and triple the amount placed compared to United, who are 10/1 outsiders.
Claudio Marchisio
The market on Claudio Marchisio's future hasn't really captured the imagination of punters, with the Juventus midfielder attracting fewer bets on his future than any of the aforementioned players. Sky Bet opened the market in June but there have been no price changes since then, with United the only team to attract multiple bets. That makes them 5/1 favourites but, in truth, it's not likely to prove a winner, particularly as the 27-year-old this month confirmed his desire to finish his career with the Serie A champions.
Cristiano Ronaldo
Although the rumours seem dead in the water, punters continue to back a return to Old Trafford for Ronaldo. Perhaps fuelled by the Real Madrid goal machine's reluctance to publicly confirm he'll stay at the Bernabeu for the foreseeable future, bookmakers stand to lose a fortune if the move actually comes off this summer. United, the current favourites at 9/2, have amassed over three times the number of bets as second favourites Chelsea (33/1), but considering the Portuguese's worth as a player and a cash cow, it's wishful thinking of the highest order for any Premier League fan to expect his return to these shores this summer. He's currently 1/7 to stay at Real Madrid.