Roberto Martinez relishing first home game as Everton manager against West Brom
Roberto Martinez admits he is excited at the prospect of his first home game in charge as Everton manager.
Last Updated: 24/08/13 2:48pm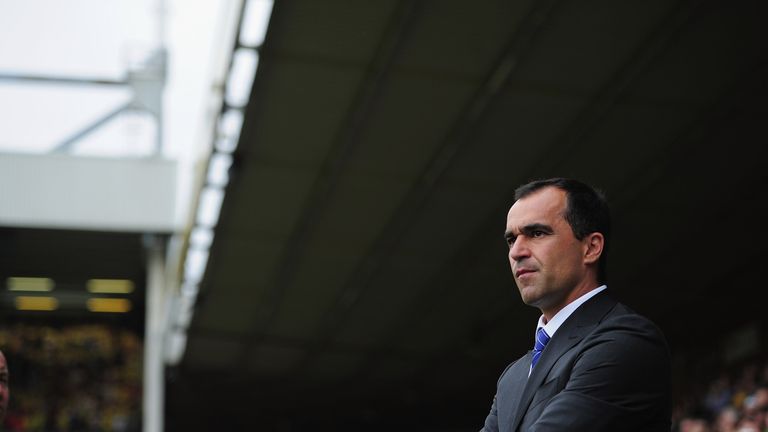 Everton, who drew 2-2 at Norwich in Martinez's first game in charge last week, take on West Brom at Goodison Park on Saturday.
The Spaniard says it will be a special day for him - but concedes the result will be all important.
He said: "It will be special but remember football is about players. It's not about managers.
"Always the first home game is a great memory but the memory will be around the result, the performance and the relationship that I can see between the fans and the players.
"I'd rather focus their energy and their support towards the players rather than to myself because football is about the players.
"I was really pleased in many aspects of our performance at Norwich - Carrow Road is a difficult place to go and try to impose yourself.
"But you need to win football games and obviously that's where we felt a little bit disappointed. That's where the work is."
Martinez's preparations have been hampered by continued speculation linking midfielder Marouane Fellaini and left-back Leighton Baines with a move to Manchester United.
Everton dismissed the £28m joint bid as "derisory and insulting" while Martinez branded it a "waste of time".
And Martinez believes the transfer window should shut before the season starts.
He said: "If you ask me as a manager I want to keep every player that has been a good performer and an effective performer for the club. That's always the case.
"I think it's fair to say that the transfer window is a must. You need to have a window period where you can recruit and get your squad.
"But for managers and staff you need the stability to work and prepare for games so it doesn't help anyone to have the transfer window (still open) when you've got official games. A manager shouldn't be thinking about that.
"Clearly we are preparing for a game against West Brom at the weekend.
"They are a real threat and their result at the weekend makes them even more dangerous. I expect West Brom to have a very strong season again."