Roberto Martinez says Everton are focused amid transfer speculation after West Brom draw
Roberto Martinez has insisted he gave no thought to leaving out Leighton Baines and Marouane Fellaini against West Brom.
Last Updated: 24/08/13 6:48pm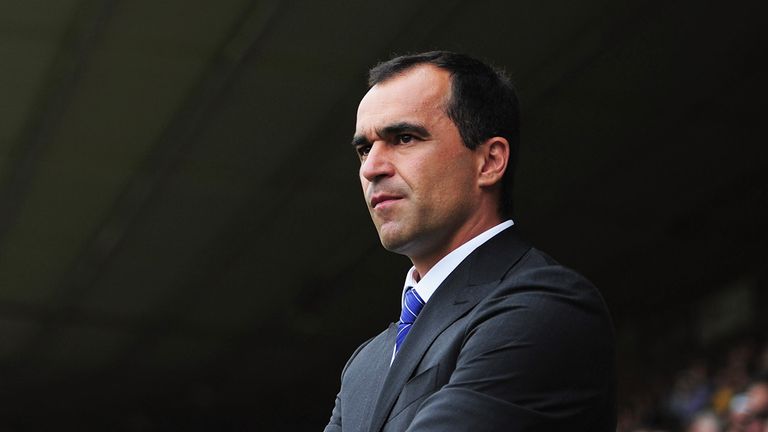 Everton had the better of a tight match at Goodison Park but had to settle for a point after Fellaini hit the post with the best chance of the afternoon, while Ben Foster also made a number of saves in the West Brom goal.
Martinez was pleased with the way his side played and saw plenty of encouraging signs, but acknowledged after the final whistle there was still a lot of work to do.
He told Sky Sports: "I thought we were magnificent off the ball, with the way we worked and suffocated West Brom's play and limited them to very little.
"We had the chance to win the game and probably that is what we deserved today.
"I thought in the second half we took control and there are probably only certain aspects where we have to learn to be a bit more patient to open teams up, but overall it was a performance that probably deserved three points.
"We knew West Brom were going to be really well organised and try to hit us on the counter and I think we coped with that well and overall the balance of play was exactly what we wanted at home.
"But we need to work and get stronger and make sure that these games don't get away from us."
Fellaini and Baines both started amid ongoing speculation they could leave for Manchester United before the transfer deadline.
But they performed well and Martinez stressed that he did not have a problem with selecting either man.
"Not at all," he said. "We are focusing on every game and know there is going to be a lot of speculation every day because we are in the transfer window, but that is for the outside.
"Internally, we are working every day with real competition for places and just focusing on getting stronger as a team and making sure we can perform as well as we can."
Everton have rejected a joint bid from United for Baines and Fellaini, and Martinez has made it clear repeatedly that he wants them to stay.
Asked if it would be a long week and a bit until the window closes, Martinez replied: "Not really. We know where we are.
"We need to keep this period as strong as we can and that will never change."