Transfer news: Everton boss Roberto Martinez says Leighton Baines has not asked to leave
Roberto Martinez insists Everton's Leighton Baines has not told him he wants to join Manchester United.
Last Updated: 30/08/13 1:48pm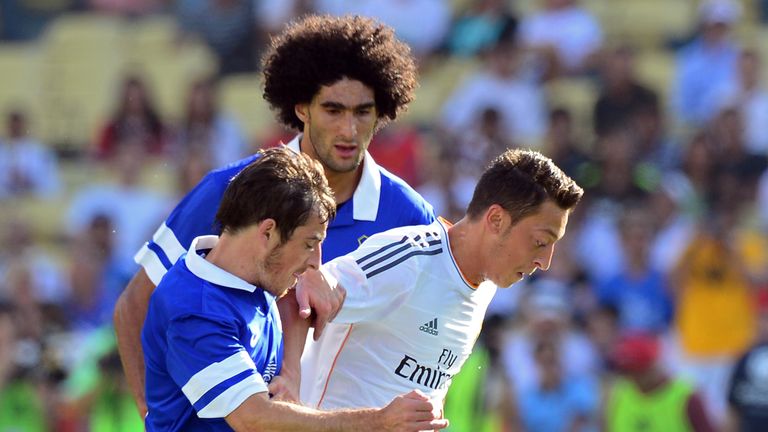 England left-back Baines and midfielder Marouane Fellaini have been targeted by former boss David Moyes, who is now at the helm at Old Trafford, but Everton have so far rejected the champions' advances.
With the transfer window due to close on Monday at 11pm, Martinez is hoping to retain the services of his key men, while admitting that Wigan midfielder James McCarthy is one possible target.
He said: "Has Leighton ever said he wants to go to United? No. But whatever the players say in a different situation or environment could change.
"All I can tell you is that Leighton is an Evertonian and very thankful for the opportunity Everton gave him. And if he has a club like Manchester United interested in him, it's a compliment.
"You have to have contingency plans. Believe me, the way you work in the transfer market is to always think about the unthinkable.
"We are working in a way in which you always need to have things in place. That's working within the rules of the transfer window, so we always do that.
"Once the window closes, we are going to look into all of the players in the squad and see where their contracts are up to, and then individually we will look to address that.
"It would be wrong to do that now while the transfer window is still open. That would just create even more instability."
On McCarthy, he added: "I've had conversations but not in a formal way. I don't want to be disrespectful. He is a Wigan player and I won't speak publicly about something.
"But it's an open secret that I am a big admirer of him."
And Martinez has warned any players who are considering a move that they may come to regret their departure.
He said: "Every time you have a good player, you're going to expect to lose him because they think that the grass is always greener elsewhere.
"It's a different challenge, the family wants to move to a better climate. Of course, players will always like that next challenge and to go to play Champions League football and to win trophies.
"But there are other great stories about that. Michael Owen leaves Liverpool to go to Real Madrid to win trophies and Liverpool win the Champions League.
"In football, nothing is guaranteed. Clubs need to be strong, and be allowed to be stronger than the players."