England's great hope
Much has been made of England being technically weaker than their continental rivals, but Adam Bate looks at the statistics that suggest Ross Barkley and Jack Wilshere will represent a move in the right direction...
By Adam Bate - Follow @GhostGoal
Last Updated: 09/10/13 9:36am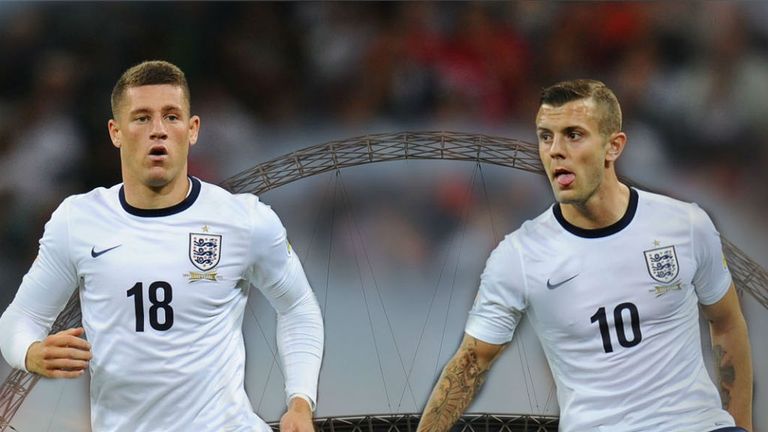 It was a difficult week for Jack Wilshere. After being publicly criticised by manager Arsene Wenger when a photograph emerged of him smoking a cigarette, he followed up with a dismal first-half performance at West Brom. But Wilshere responded. His equaliser salvaged a point for Arsenal and the focus at full time had switched to the fire that burns within rather than those smoking distractions. "He doesn't give up," Wenger told Sky Sports. "He continues to play his game and got a great goal."
Character is a word used to describe Everton youngster Ross Barkley too. Like Wilshere, the midfielder has overcome a serious injury - a double-leg break while training with England Under-19s. Now he is receiving the reward for his determination. "Ross is a young diamond of English football," said Roberto Martinez, his boss at Goodison Park. "He has a terrific understanding of the game at such a young age. There is a long way to go, but he knows that. He wants to work so hard and that is a pleasure to see."
There is nothing particularly unusual in that. Despite the louche stereotypes, players enjoying success in the Premier League will invariably have shown considerable commitment to their profession. That's what it takes to get to the top and there are doubtless similar tales of sacrifice for the likes of Steven Gerrard and Frank Lampard. But there is something different about Wilshere and Barkley; something different about the type of player that they are.
Super Frank and Stevie G are remarkably effective footballers and rank among the finest midfielders of their generation, an accomplishment that - in the tribal world of the Premier League - may only be truly appreciated once they are retired. Each boasts an astonishing goalscoring record that contrasts uneasily with Wilshere's 54-game wait for a top-flight goal. And yet, there is still excitement. Wilshere and Barkley are precisely the sort of players who the doomsayers regarding English football would have you believe the nation is unable to produce.
These are technical players with excellent close control in tight situations. They have that ability to receive the ball and manoeuvre away from danger. The hallmarks of quality. It is the sort of football that usually sees envious glances being cast in the direction of Spain and beyond. The truth is that the short passing game can be made to look simple when the control is instant. Notably, Wilshere and Barkley have impressive stats for passing accuracy in the final third of the field, where space is at a premium.
Here the contrast with Gerrard, Lampard and even the much praised pass-master Michael Carrick becomes interesting. The trio all have sub-80 per cent pass completion rates in the attacking third of the pitch. This hints at more ambitious decisions being made but in the case of Lampard and Gerrard, this does not translate into improved chance creation. Wilshere and Barkley are retaining the ball better and still succeeding in playing the killer passes.
England midfielders - PL 2013/14
Player
Pass accuracy final third
Chances created open play
Chances created (OP) per 90
Jack Wilshere
80.3
9
1.63
Michael Carrick
74.1
9
1.29
Ross Barkley
83.3
8
1.15
Tom Cleverley
90.4
5
1.13
Steven Gerrard
76.1
6
0.86
Frank Lampard
58.7
3
0.55
While Tom Cleverley has the best accuracy in this zone of England's six chief midfield options, the Manchester United man has been accused of taking the soft option rather than making things happen. That's not a tag that could be applied to Wilshere, with the best chance creation rate of the six players, or Barkley whose two goals this season match Cleverley's tally in his last 42 games. "He's getting goals and you've got to get goals," said England coach and Sky Sports pundit Gary Neville of the Everton man. "If you're playing in that position as a No.10, then you have to be affecting the match by scoring and assisting. He's doing that now for Everton."
Significantly, both men also offer a dribbling threat, breaking through the lines by carrying the ball past opponents. It is such a rare quality in a game where possession football can become sterile. This is where the pair could give the England team a different dimension. Barkley has completed more dribbles than any other central midfielder in the Premier League this season and is already invoking Gazza comparisons. "He's got a bit of the Gascoigne about him in terms of running at people in central areas," said Jamie Carragher on Monday Night Football. "Normally you just see wide players doing that."
Neville agreed. "He's unique in that sense," he added. "To be a midfield player who can commit people and beat men in those central areas. We can't begin to put him in the Gascoigne bracket yet but the similarity is there. Those arms come out and he has a maturity in his frame. He's a real powerhouse. I think he can play deeper too. I think he can play as one of the two in central midfield because of his physique."
Indeed, Barkley even played in defence in his youth and his childhood coach is on record admitting that he felt the player would turn out to be a top-class centre-back. Instead, he is getting his chance in the No.10 role. That's the position Wilshere filled in Ukraine and regardless of whether or not Roy Hodgson opts to continue with the Arsenal player, it seems the England manager is likely to resist the temptation of playing the pair together in two must-win World Cup qualifiers.
Despite this caution, there is no reason to doubt the long-term ability of Barkley and Wilshere to play alongside each other in the centre of their country's midfield. As Wenger says of Wilshere: "He is the complete midfielder, he can play anywhere. He has quality and enthusiasm, and love for the game. That is the most important thing to me."
It all comes back to that attitude. Perhaps this is why the duo hold the key to unlocking England's identity issues identified by Rio Ferdinand earlier in the year. The veteran defender suggested that the Three Lions did not have a vision of how they wanted to play. Wilshere and Barkley can embody that vision. They can be that prototype - technically good players with an aggression to their game. A fusion of a fast-paced Premier League approach and the technical demands of modern football. Flailing arms and flawless feet... it's our roadmap to Rio.