Everton chief executive Robert Elstone defends Premier League
Everton's Robert Elstone has defended the Premier League in the wake of growing criticism around the England team.
Last Updated: 11/10/13 3:36pm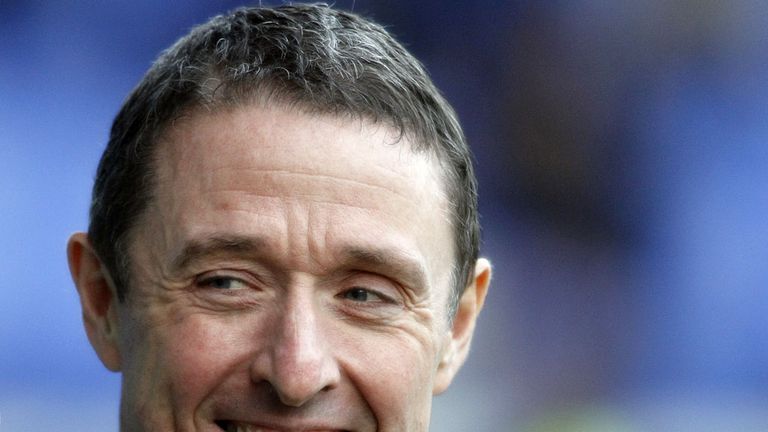 Football Association chairman Greg Dyke has established a commission to examine how best to improve the fortunes of the senior England side and enable more home-grown talent to come through the domestic club system.
Elstone believes too much criticism is aimed towards the Premier League for the failure of English teams at all competitive levels.
"I am certain those in the game know which organisation has transformed the fortunes of English football, has put our game back on the map, has put respectability back into our game," Elstone wrote in a blog on Everton's official website.
"The world's most admired, envied and respected league is ours - and it's not just about the money.
"Our English talent looks over its shoulder every day. They have players from all over the world chasing their livelihoods.
"Where better to get the 20, 30 or 40 players we need to fight with the best in the world at a national level?
"Why would we want it easy? Why would we want to take the pressure off? And it's a framework built by the Premier League."
Darwinian outcomes
He added: "The Premier League has created the perfect environment to develop world-class players, a research and development laboratory with maximum stress testing and the potential for true Darwinian outcomes.
"It is the political capital leveraged by the revelation that 'only' 30 per cent of total minutes played in the Premier League is English that has moved me to write. It's hardly revelatory, it's something we've known for a while, and, it is claimed to reveal the root of the problem, our League is full of foreigners. But maybe we should consider whether 'full' is a problem.
"How many great players do we actually need to win a World Cup? The Belgians might do it with fifteen? 30 per cent is actually quite a big number when you consider they're playing in the most demanding league in the world. Maybe it's time to think quality and not quantity?
"These 60 or 70 players can prove Darwin's theories on the 'Evolution of the Species' like no other sporting competition in the world; like no other environment in the world."
The Premier League already have an Elite Player Performance Plan in place, which Elstone pointed out has helped bring through the likes of Ross Barkley who is now a regular in Roberto Martinez's first-team squad and could well play an important role in England's final crucial World Cup qualifiers.
Elstone added: "Having worked with the Premier League on the Elite Player Performance Plan, having seen how hard Everton and other Premier League clubs work, having two teenage boys playing 'top level' junior football, I feel I have a reasonably credible handle on youth development.
"And I hear so much that frustrates me, so much rhetoric, so many unsubstantiated claims, so little robustness, so little effort to do any homework, and frankly, so much abdication of responsibility.
"Over the past 48 hours, I haven't heard a single word about the Elite Player Performance Plan - the Premier League-led initiative to modernise the development of young players. It's a thorough, well-researched and benchmarked blueprint for the future, funded and implemented by the Premier League.
"It's a plan designed to challenge, refine and optimise the colossal £70m spent every season by the Premier League on young players, a contribution way beyond any other league in the world.
"An environment where 4,000 boys are coached, monitored, mentored and educated week-in, week-out in world class facilities, and in our case, in the same building where Ross Barkley listens intently to the guidance and wisdom of Roberto Martinez. Funds, facilities and strategies all provided exclusively by the Premier League.
"Who is trying to do something to give us a chance of winning the World Cup? Who's having an impact? I know the answer. I also know who it's not."