Everton boss Roberto Martinez not surprised Leighton Baines is attracting interest
Everton boss Roberto Martinez admits speculation over Leighton Baines' future is inevitable.
Last Updated: 18/10/13 10:14am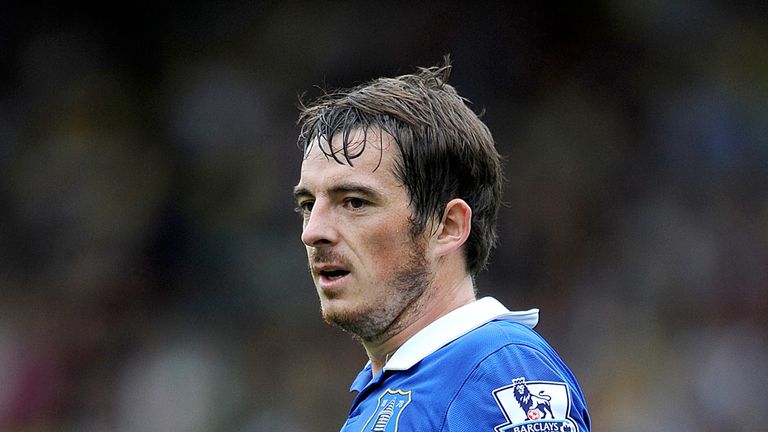 Baines was instrumental in helping England qualify for the World Cup this week with impressive performances against Montenegro and Poland and has made a strong case to be first-choice left-back in Roy Hodgson's side ahead of Ashley Cole.
The 28-year-old was strongly linked with a move to Manchester United in the summer and a number of other top clubs are thought to be monitoring his situation with the full-back entering the final 18 months of his contract at Goodison Park.
Martinez is not worried about Baines' contract situation or the constant speculation linking the former Wigan man with a move away.
"You're not going to stop the rumours and the talk; that comes with a player performing so well," said Martinez. "You are always going to get that. So I'm not concerned about that.
"As a manager, the only thing that concerns me is to see Leighton enjoying his football and being consistent with his performances."
But when asked if the player's contract could become an issue if not resolved by next summer, Martinez added: "It could be because you don't want assets to be devalued.
"I'm conscious that we'll never get away from that debate, the rumours and the speculation but I see that as a compliment.
"No-one would talk about a player who is not playing well or enjoying his football and that's the last thing I want.
"But we don't need the money and you can't replace a player like Leighton Baines so to get an extra £5m, an extra £7m makes no difference."
Martinez insists he would not swap Baines for any other full-back in the world, feeling his all-round game is as good as anyone in the game.
"You can look throughout world football and you won't find many footballers as complete as Leighton," added Martinez.
"You have outstanding attackers but they find it difficult to defend or you've got outstanding defenders who find it difficult to get into in the final third.
"Then you've got players who are good at both but don't have the dynamism, the energy or the stamina to get up and down. Leighton covers everything.
"He's someone who can take the free kicks, in fact all of the dead ball situations with the quality that he has, he gets into the final third with a real threat, his timing and decision-making are always really good.
"Defensively he's as good a left-back as you're going to get and he now brings that sense of experience and maturity in his performances.
"He's in the peak of his career."