Everton boss Roberto Martinez backs decision to allow Kevin Mirallas' opening goal
Roberto Martinez felt Kevin Mirallas' disputed first goal in Everton's win against Hull was correctly allowed to stand.
Last Updated: 20/10/13 2:54pm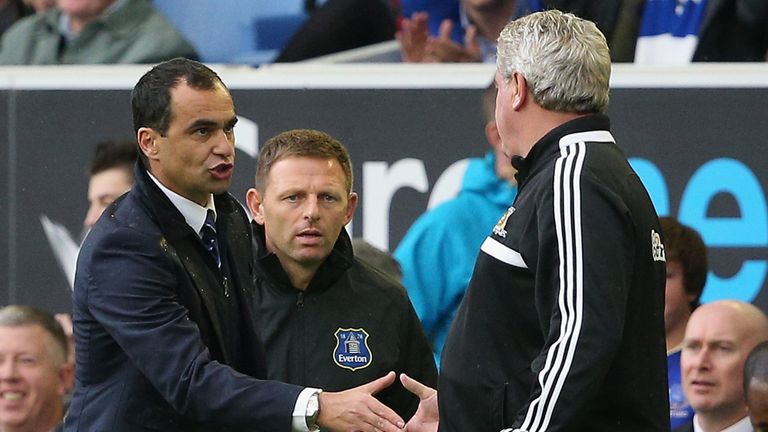 Tigers boss Steve Bruce felt Gareth Barry should have been flagged offside when there was a hint of a touch from the England midfielder from Mirallas' shot.
But Martinez had the polar opinion to Bruce and argued referee Neil Swarbrick and his team of assistants got the decision right.
"Well, I think we've been watching it now six, seven times and you can't really tell if there's a touch or not," he told Sky Sports after Saturday's Premier League clash at Goodison Park.
"For me, when you get a touch, the ball changes direction and I don't think he got a touch. But even if he touched it, it's impossible for the referee or linesman to see that.
"Remember, in football the referee has got the hardest job. If you're not certain of something, you need to allow it to stand. But after watching it now, I don't think the ball changes movement, so for me it's a good call."
The Spaniard was far happier talking about Pienaar's first appearance since August 31.
The South African was not expected to return until next week but the manager changed his mind a couple of days ago and he bagged the winner just 10 seconds after coming on as a second-half substitute.
"Thursday's session he looked really sharp and he finished so clinically I felt he was not ready for 90 minutes but we had to have him around the team," he said.
"First touch and back of the net is quite an impact.
"Steven Pienaar brings something really special to our side, for many reasons -firstly the understanding he has with Leighton Baines and also the way he can find space.
"We knew he couldn't play 90 minutes but the impact he had in the game was terrific.
"It was important for us to have that little bit of magic to get that second goal."