Premier League: Everton defender John Heitinga suffering from groin injury
Everton boss Roberto Martinez has revealed John Heitinga has a groin injury but hopes he can return to fitness soon.
Last Updated: 24/10/13 12:12pm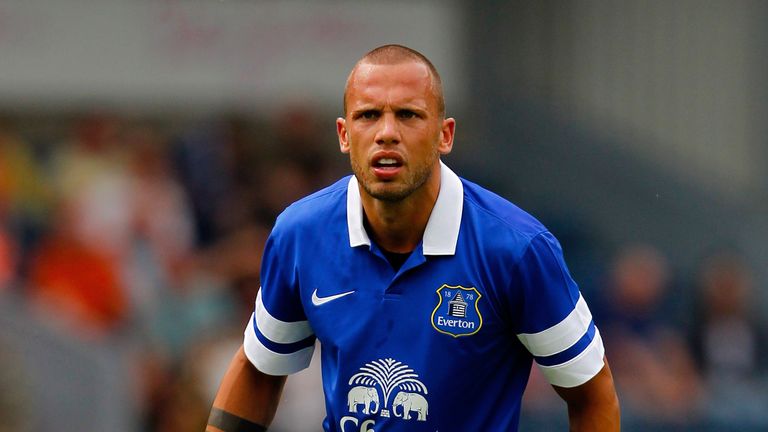 The Dutch international has made just two appearances this term, and was not part of the match-day squad as the Toffees beat Hull City 2-1 last weekend.
While Heitinga has hinted he might be forced to leave Everton in January to safeguard his place in the Holland squad, Martinez insists he has an important role to play at the club.
He told the Liverpool Echo: "At the moment John has got a bit of a problem.
"He's got a worry in his groin and we're checking that and making sure it's not a major problem.
"I know the fans haven't seen him on the pitch much but he's been very influential.
"He has a major role behind the scenes in training and helps the youngsters with his experience.
"All I'm hoping now is to see how he recovers and how quickly he can be fully fit."
Intensity
Meanwhile Martinez has praised the intensity of on-loan striker Romelu Lukaku, who is trying to work towards staying on the pitch for a full 90 minutes, something he has achieved only twice this term.
The Everton boss said: "I wouldn't want him to change that intensity. That would be a big mistake.
"You've got two options (to keep him on the pitch longer); reduce the intensity and last over 90 minutes or work slowly over time to expand the quality of his play up to 90 minutes. It'll take time but that's what we want to do.
"Last season he only played seven full games with West Brom, and there are other aspects to consider. Firstly his age - he's still a very young man. Second, the intensity that he plays with, and any player would struggle to hold that longer than 20 minutes.
"Obviously he's now trying to work towards 90 minutes but it's more focussing on the quality of his play than the quantity.
"I'm very pleased with the manner he played 90 minutes against Fulham in the cup, and then Newcastle.
"Now it's a matter of assessing each week. The Hull game was difficult for him because he'd had two tiring games for Belgium that took a lot out of him. It's just a matter of time as he develops."