Premier League: Roberto Martinez fears impact Christian Benteke will make against Everton
Roberto Martinez feels Everton's task at Aston Villa on Saturday is much tougher now Christian Benteke is fit.
Last Updated: 27/10/13 1:07pm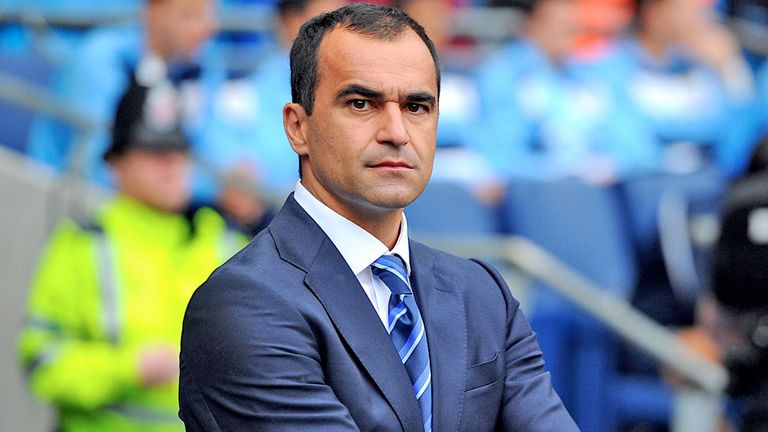 Martinez works with one of Belgium's best players, Romelu Lukaku, in training most days and he is excited to see what entertainment the international team-mates will produce at Villa Park.
Benteke played half-an-hour off the bench in Villa's 2-0 home defeat by Spurs last weekend after missing a month with a hip injury and is expected to return to Paul Lambert's starting line-up this weekend.
"I think he has been an impressive signing," Martinez said.
"Looking at his contribution last season it was more than significant in Villa's record in the league and you can see what he brings to the crowd and what he means to everyone at Villa.
"Clearly Villa with Benteke on the pitch is a bigger threat and we will have to be very wary of that.
"They are very different and Belgium as a national team are very fortunate to have two players of that quality.
"They are two players that they can even play together in the same side and in their way they can be very effective and very much the focal point of any attacking team. They are two sensational strikers facing each other."
Everton have not lost to Villa in their last five meetings but Martinez is taking nothing for granted against a team that has already beaten two title challengers this season.
He added: "Anyone that can beat Arsenal or Manchester City deserves huge credit. When they have everyone fit and available, they are as good as anyone on their day.
"They have a lot of young players which shows a lot of bravery - that brings you energy and sometimes a dangerous naivety, which is sometimes needed in the modern game.
"They have had really difficult games but I think it's fair to say they are a very brave team, very flexible tactically. They always cause a threat and try to win the game, which is refreshing at times.
"I always have great admiration for managers who can be flexible with their tactical approach. Clearly Paul Lambert has achieved that."