Roberto Martinez hails Ross Barkley as he predicts Everton goals will flow
Roberto Martinez has hailed the 'Brazilian' quality of Ross Barkley and said he has no worries about a lack of goals.
Last Updated: 19/11/13 1:37pm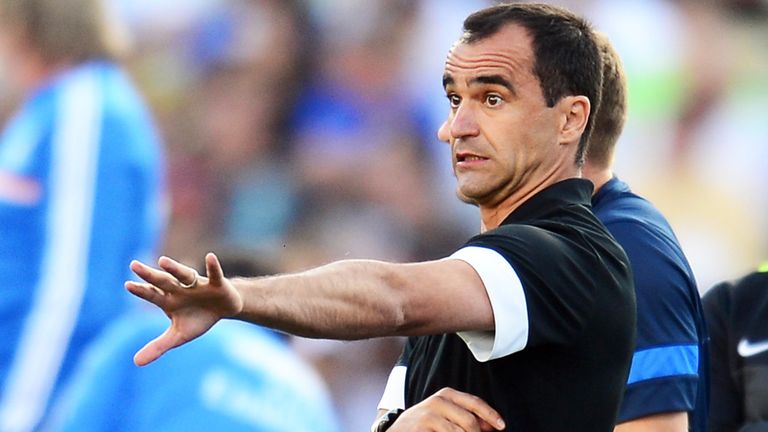 Everton have been held to 0-0 stalemates in each of their past two matches, when victories would have propelled them into the top four.
They had previously appeared to be scoring freely after improving on a slow start to the season, and Martinez is confident that the drought will not last long.
The Spaniard believes he has a lot of players who can contribute and does not want to be reliant on his front men like Romelu Lukaku.
"We've got goals in the side. I'm not worried about that at all, and the more our players grow together the goals will come," Martinez said in the Liverpool Echo.
"It's not just the strikers, it needs to be throughout the team. We are better now than we were in August but we need to get better again.
"The goalscoring ability of a team is very important. You are going to be successful in a season if you are solid defensively and have a threat of scoring goals."
Martinez has particularly high hopes for midfielder Barkley, who has begun to establish himself as a regular starter at Goodison Park this season and has impressed his manager with the speed of his development.
"Ross, since day one, showed he was ready and in a position to enjoy his football and it is not a secret he is a really talented man," said Martinez of the 19-year-old.
"Technically he is really gifted and you would probably see that technical ability in any player brought up in Brazil or Holland - he is that exquisite technically.
"He is a young man who is fighting for his place and his personality and character means he is such a humble boy, all he wants to do is listen and play.
"Nothing will faze him on a pitch and if you have that with the talent he has it is an incredible combination."