Premier League: Everton's Gareth Barry concedes he came close to joining Liverpool
Gareth Barry enters the Merseyside derby in the blue of Everton - but admits he could have been donning Liverpool red.
Last Updated: 23/11/13 12:16pm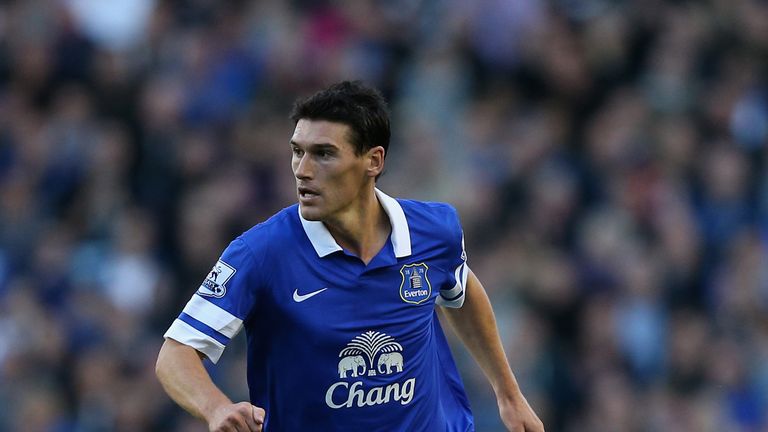 Former Reds manager Rafael Benitez opened talks with Barry as he attempted to sell Xabi Alonso to Real Madrid in 2009.
Barry sat down with his manager at Aston Villa, Martin O'Neill, and expressed his ambition to move to Anfield, leading to the playmaker being booed by the claret and blue faithful.
However, it was not only at Villa Park he received a hostile reception, as Barry explains Liverpool fans never appeared to warm to the idea.
"I was very, very close to joining Liverpool," said Barry. "I had told Martin O'Neill I wanted to leave, but ultimately they didn't stump up the fee.
"The big thing with the Liverpool fans was that it looked like one of their favourites was leaving, in Alonso, and they looked at me as the reason for it.
"I still remember watching a pre-season friendly and they made it obvious they weren't keen on me coming in to replace him. He was a fantastic player and I can understand it."
Respect
Barry never completed the switch to Anfield and opted for a move to Manchester City instead and, with two winners' medals to his name, insists he made the correct decision.
"City weren't in the Champions League and Liverpool were, but the things that happened, like signing some of the world's best players and I wanted to be a part of it," he added.
"You look at the way the clubs have been since and City have been regulars in the Champions League and picked up a couple of trophies, while Liverpool have not. I could be all smug, but I won't be.
"I have a lot of respect for Liverpool, it's a fantastic club with a lot of history. Things happen for a reason, and I ended up with a Premier League and FA Cup, which was massive."
Saturday's derby sees Barry take on fellow England midfielder Steven Gerrard, whom he holds in high regard, and admits the Liverpool captain would have liked to become teammates.
"We were really young, nervous lads at Euro 2000 and we roomed together, because you need someone to be around when you're away from home for that long," he said.
"I remember him saying then his ambition was to win 50-100 caps and he always backed himself.
"We were away with England when I joined City and I had chats with Stevie about it. He was keen on me joining Liverpool, but you don't put friendships above what you think is right for you."