Premier League: Roberto Martinez defends Everton's Kevin Mirallas over tackle
Everton boss Roberto Martinez defended Kevin Mirallas after his challenge on Luis Suarez in Saturday's Merseyside derby.
Last Updated: 24/11/13 9:23am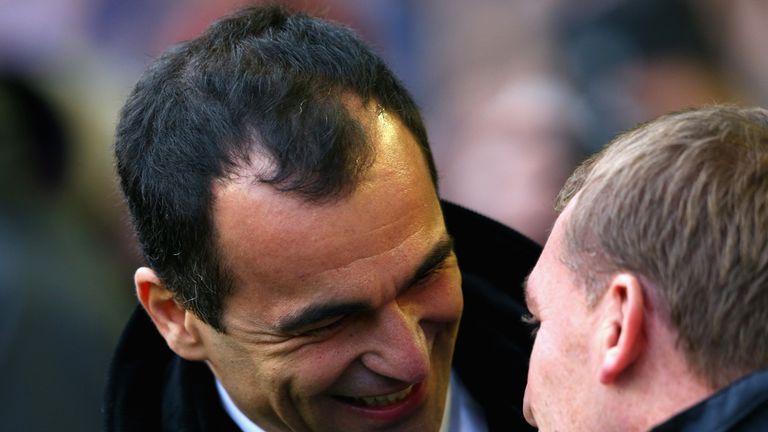 Martinez, in his first Merseyside derby, did not feel Mirallas deserved to be sent off by referee Phil Dowd for his high first-half tackle on Suarez - unlike Liverpool manager Brendan Rodgers.
However, the Spaniard said he was able to accept Rodgers' viewpoint, even if he disagreed with it.
"I can see why. I have seen the replay and obviously Kevin goes for the ball with a typical striker's tackle and closes his eyes when he gets to the incident and his right leg catches Suarez," he said.
"I don't think it is a red card because it is not a malicious incident, he tries to win the ball but gets there late.
"I think a yellow card, bearing in mind the emotions you bring into a derby, was the right decision.
"But I can see why, if that had been against my team, I would've been thinking it would have been a red card.
"I think the referee was very right to give it as a yellow card. He allowed the whole game to be played at a very good tempo and was outstanding playing the advantage."
Martinez pointed to an incident after the break when Reds skipper Steven Gerrard jumped high to win a header above Gareth Barry, and appeared to lead with his elbow.
"I was a little bit disappointed with Steven Gerrard's elbow on Gareth Barry," he added.
"It did not contact his face but it was not a natural position to have an elbow and that could have been a nasty incident."
Martinez became a father for the first time on the eve of the game after his wife gave birth to a daughter called Luella, but insisted it did not affect his focus on the match.
"That comes through the family. My dad missed both mine and my sister's births because he was involved in football," he said.
"I am delighted. My wife is in a great condition. I was at the birth but I did very little."