Premier League: Roberto Martinez insists Everton fear no-one in division
Roberto Martinez believes Everton's no-fear approach helped them pull off an upset win at Manchester United.
Last Updated: 08/12/13 3:21pm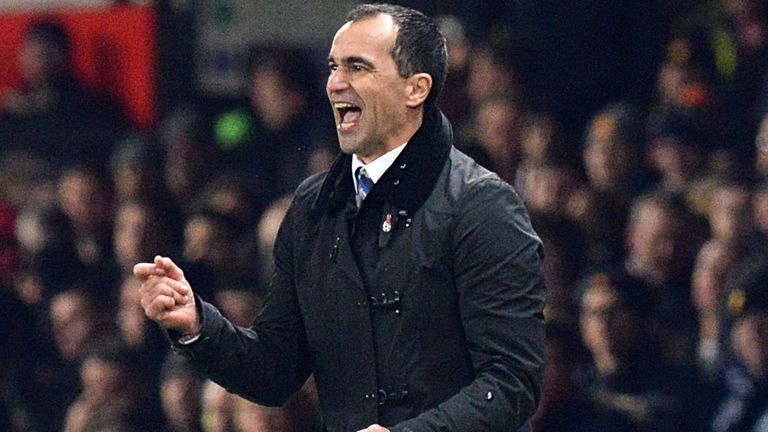 Bryan Oviedo's late goal on Wednesday night ended Everton's run of 21 years without a victory at Old Trafford, while the Toffees also dished out a Premier League defeat to Chelsea earlier in the season.
Martinez insists his side are not intimidated by any of their rivals and hopes for another positive result away to Arsenal on Sunday.
"I don't think we've played with fear at all this season," said the Spaniard, who plotted Wigan's win at the Emirates in April 2012.
"We beat Chelsea at home and to beat Manchester United away showed an incredible improvement to our performance from Manchester City (Everton's only defeat of the season so far back in October).
"I felt when we went to City, we didn't have the right belief in our performance but I think we showed that at Old Trafford.
"Arsenal deserve a lot of respect because if you win 11 of your first 14 games, you are the outstanding team in the competition.
"We are looking at ourselves to try to use this as a terrific test to see how quickly we can improve and challenge these sides.
"The Emirates Stadium is one of the hardest places to go and be yourself.
"Arsenal as an attacking team are as good as it gets and their movement and forward play requires maximum concentration in everything you do.
"From our point of view, we are ready for that test. We are excited about challenging the best team in the league so far."
Everton have not conceded since Yannick Sagbo scored for Hull on October 19 and Martinez believes all his players have contributed to this miserly record.
"The old cliche that defenders are there to defend and attackers are there to attack doesn't work any more," he said.
"In the modern game, as a team you defend with 11 players and you attack with 11 players and it has been important that we work as a unit.
"Everyone is really clear in the roles we have and at the moment we have terrific focus and intensity in our performances and that shows not only at the back but going forward.
"We went to Old Trafford and we had a left-back in the 18-yard box scoring in the 86th minute - that shows the responsibility the players take in both roles."