Premier League: Roberto Martinez believes Everton are reaping rewards
Roberto Martinez has admitted his delight at how quickly Everton have adapted to his new philosophy this season.
Last Updated: 09/12/13 4:38pm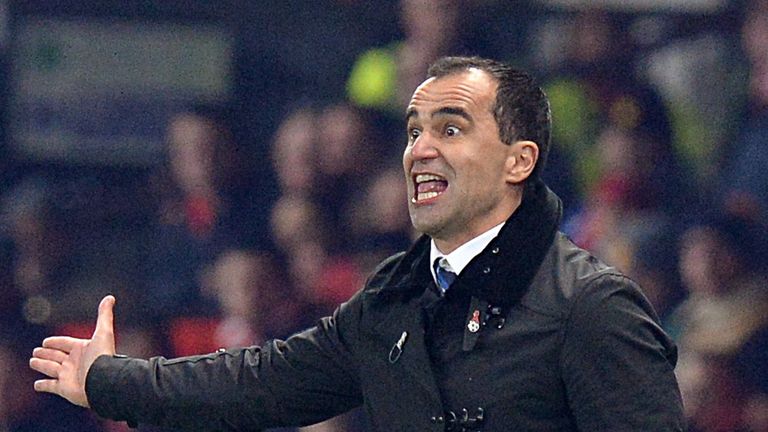 Martinez, who succeeded Daid Moyes this summer, has been working on a new approach at Goodison Park and beleives his team are starting to reap the benefits.
Having won at Old Trafford for the first time in 21 years in midweek, Everton garnered more plaudits with another impressive display in the 1-1 draw at Arsenal on Sunday.
"At the moment, we are so focused on how we are trying to play that the next six months is going to be great potential for us as football club," Martinez said.
"We went to Manchester City earlier in the season and could not be ourselves, to play the way we wanted, and consequently we lost the game (3-1).
"Since then we went to Old Trafford and the Emirates in the space of a week and it was a completely different performance and that was an incredible sign.
"We have a blend which excites me and all the players are working hard trying to improve and develop. I am really excited about the potential of this group of players.
"Long-term, Everton need to be in the Champions League, whether it is this season, I don't know, but we are going forward."
Leon Osman insists Everton are not about to get carried away despite the fact they are now unbeaten in eight Premier League matches, and have climbed to fifth in the table.
"We are a fit and strong team and have been going to these places having a lot of possession. When you do that you can dictate the pace of the game," he said.
"We always came positive and wanting to win, but maybe there is a bit more
belief now - however, we are not going to get ahead of ourselves.
"We have had a good week, but everyone knows things can change quickly. We will hopefully keep ticking along quietly and see where that takes us."