Premier League: Still room for Everton improvement says Roberto Martinez
Roberto Martinez believes there is still room for improvement from Everton despite their flying start to the season.
Last Updated: 23/12/13 8:17pm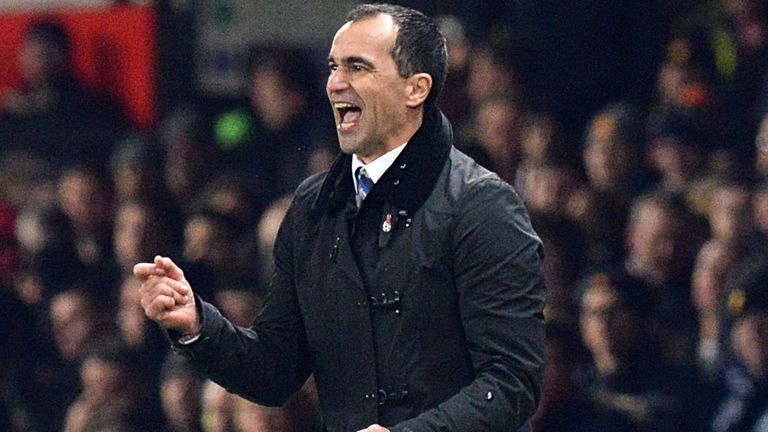 The Toffees have lost only one of their 17 Premier League matches so far and Sunday's 2-1 win at Swansea City took them up to fourth place in the table.
However, Martinez does not believe they are over-achieving and hopes they can cement a top-four finish at the end of the campaign.
The Spaniard told Weekend Warm-Up on Sky Sports News: "If anything, I always respect the perception from the outside, the perception of the fans, they can see the day to day, every Everton fan will tell you that if anything we've got less than what we deserved on the pitch.
"The performances have been full of hard work, a combination of good flair and quality, hard-working and the performance has been very, very good.
"Don't get me wrong, but we feel we still have a bit to improve and that's what we're focusing on. If you speak to the players they'll tell you they've enjoyed the period but we can do better, and that's what we want to do for the second half of the campaign.
"You always need to try to fulfil your potential. I will never look into the table in December, it's impossible to set your aim.
"In a 10-month competition the margin of error is huge, you need to work as hard as you can and get into April and then see the amount of points you have and then you can set your targets. But what is true is we have a really exciting group of players.
"I think the performances have been magnificent and we still feel we can improve on that. The focus is, can we fulfil our potential before the season ends?"
Martinez reckons the "perfect" blend of youth and experience in the Everton squad has been the key to their excellent start to the season.
Young midfielder Ross Barkley hogged the headlines after his superb winner at the Liberty Stadium on Sunday but experienced players like Tim Howard, Sylvain Distin and Gareth Barry have also played a key role this term.
Martinez said: "It's been a really exciting start, remember we've got a good squad of players, the mixture is perfect, we've got good direction and standards from the senior players, they've got experience and good know-how, not just in the league, it's how an Everton footballer should behave.
"Then the youngsters, they bring incredible talent and bravery, the combination is about right, we have young players and they're ready for big roles, and we have the senior players with direction of the senior boys, that's been really exciting - everyone desperate to help the team and listen, week by week we're developing and hitting good performances and we still feel we've got a long way to go to where we can get."