Premier League: Antolin Alacraz focused on Europe after Everton debut
Antolin Alcaraz admits he was delighted with the support he received after finally making his Everton debut on Sunday.
Last Updated: 30/12/13 5:32pm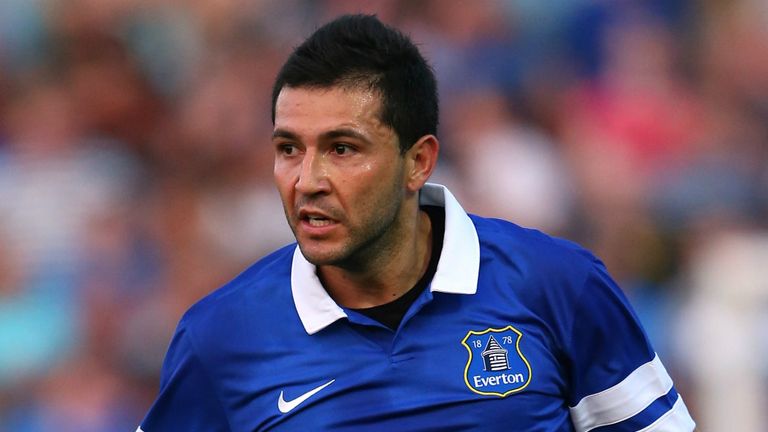 The centre-back has been sidelined with a hamstring problem since his arrival from Wigan in the summer, but he came into the starting line-up against Southampton in the absence of the injured Phil Jagielka.
Alcaraz's stoic defensive display helped Everton secure a 2-1 win at Goodison Park and ensured Roberto Martinez's side finished the year in the UEFA Champions League qualification places.
The Paraguay international provided more than ample cover for the injured captain and admits the support he received made the game a much more enjoyable experience.
Speaking to the Liverpool Echo, he said: "It's been a very long wait for me to get involved, so it was a nice way to come in and play my first game at home. The result and the support was great.
"It has been a difficult time but every player goes through tough spells and I'm happy now it's behind me and I can enjoy this moment with the team.
"I think it was a good game. They were a nice side that played some quick football but we made the best of it and got the three points."
With only six points separating the top five in the Premier League, Alcaraz recognises the significance of every upcoming fixture as Everton continue to pursue their European ambitions.
Europe
"I think every three points is important now," he added. "One loss changes everything, and we know how hard it is in the Premier League so we couldn't slip up.
"For us we're focusing on each game and then at the end of the season we'll see where we are.
"I'd enjoy it if we could get back into Europe but there's a long way to go. We need to focus on improving and getting as many points as possible."
Alcaraz was full of praise for Seamus Coleman, who opened the scoring for Everton on Sunday with a thunderous strike, and James McCarthy, who he knows well from the pair's spell at the DW Stadium under Martinez.
"Seamus is in a great moment," he claimed. "I love seeing him play. I hope he can continue like this all season. He was a really good bargain too.
"James also. He had a great game and has performed well in every game. He has a great future and has improved with every week he has been here.
"He gives you a lot of help at the back and I think he'll get even better too. It's easy to forget he's only 23. He is a real leader for the team.
"It didn't surprise me when the manager went in for him in the summer because he showed his potential with Wigan."