Everton loan star Romelu Lukaku eyes Premier League title challenge
Romelu Lukaku is confident Everton will finish in the top four and feels they can be contenders for the title.
Last Updated: 31/12/13 11:36am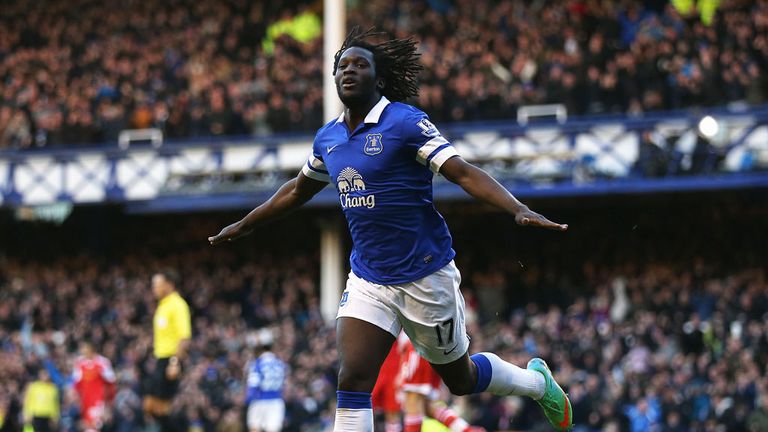 Everton go into the New Year in fourth spot after an impressive start to life under new manager Roberto Martinez.
Lukaku, who joined Everton from Chelsea on loan on transfer deadline day last summer, has scored nine goals since his arrival at Goodison Park and he has been impressed by the quality of the squad at Martinez's disposal.
Everton have suffered fewer top-flight defeats this season, but seven draws have stopped them from being closer to the top of the table.
Lukaku has called on his Everton team-mates to be more ruthless by turning those draws into victories in the second half of the season, admitting they are outsiders for the championship.
"I don't think we are surprised by the way this season has gone, because we know we have quality," said Lukaku.
"When we are on the pitch, we work hard and run for each other and try to be ruthless. That last part, becoming more ruthless, is what we have to work on in the second half of the season.
"If we are more ruthless we will end definitely in the top four. Definitely. We have two losses and a lot of wins. In the games we drew we weren't ruthless enough, so if you change that and become more ruthless it becomes more wins, and then we are up there. I am not surprised we are top four contenders.
"In fact, you can say we are outsiders for the title now. You don't need to be shy about that. You have got to when you look at our points. I knew from the first day I arrived on the training ground and trained with the team. I called my agent and dad and said: "We did something very good here.
"I was so impressed. Chelsea was top but Everton is getting there. There is not a lot of difference and that is why I think I made a good choice. I knew after that first training session, after seeing the quality in the squad.
"I didn't want to say anything to the players, but then I spoke to Phil Jagielka on the bus after the West Ham game, and said: 'This year we will do something special because you are all special players. And I am not saying this because I want to be friends with you guys, but I have trained with the best players, in my eyes, in the country, and I'm telling you, you are not far from it.'
"Phil just laughed, but I was very serious and now we are showing a lot of great performances.
"In the New Year we have to be consistent and work and work and change those draws into wins and then we will be up there."