Premier League: Everton defender Leighton Baines set to return against Norwich
Leighton Baines could return for Everton at the weekend, but Sylvain Distin and Phil Jagielka remain sidelined.
Last Updated: 11/01/14 2:17pm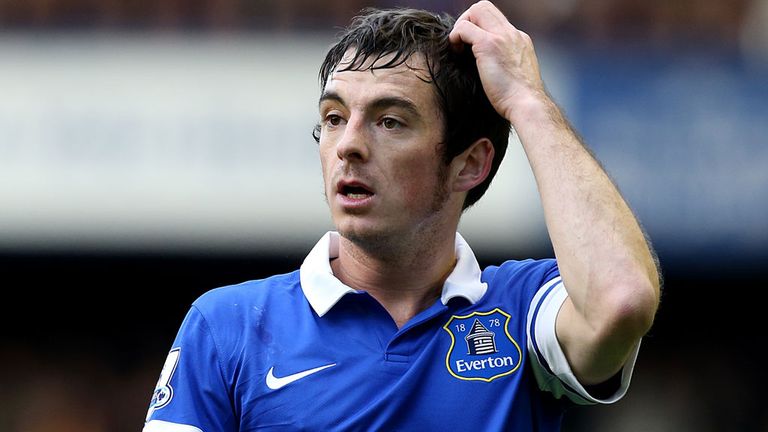 Toffees boss Roberto Martinez is confident that Baines will return at left-back after he was forced to miss the FA Cup win over QPR with a back spasm.
But fellow defenders Distin and Jagielka are continuing to have treatment on hamstring injuries, although they are likely to be fit in time for the FA Cup fourth-round tie against Stevenage.
Martinez said: "Leighton Baines was just a back spasm and he is recovering as we expected so I don't think he's going to be too far from being able to train.
"I would say Leighton will be back in training on Thursday. We'll then have to assess him. Back spasms can be cleared completely or they can leave you a little bit with a lack of mobility.
"Any player needs to be 100 per cent to be able to play and to be considered to play, so we'll assess Leighton on Thursday, see how he is and take it from there.
"Sylvain and Phil Jagielka both have got probably a period of between seven and 10 days, but I would say two weeks is the most realistic time.
"But they are players who recover really well from these sorts of soft tissue injuries. They are not major problems."
Martinez also had positive news over on-loan Barcelona striker Gerard Deulofeu, who is on track to return from his hamstring problem by the end of the month.
The 19-year-old returned to his parent club for treatment and Martinez said his situation was progressing in line with estimates.
"He is well on the period we expected. The reports were very positive and he is recovering well but there is still a long way to go," added the Spaniard.
"It is not a straightforward injury Gerard has but we are positive by the end of January he will be at full fitness. Barcelona have been very professional and we benefited from that.
"We've got a good period now with good games and a little bit of a rest period in between, so we'll use that to our advantage.
"Then we're going into the end of January and beginning of February and another very busy period, so we need to make sure we don't carry any injuries with us."