Roberto Martinez backs Romelu Lukaku over Nicolas Anelka 'quenelle' comments
Everton manager Roberto Martinez has defended Romelu Lukaku's intervention in the Nicolas Anelka case.
Last Updated: 23/01/14 4:40pm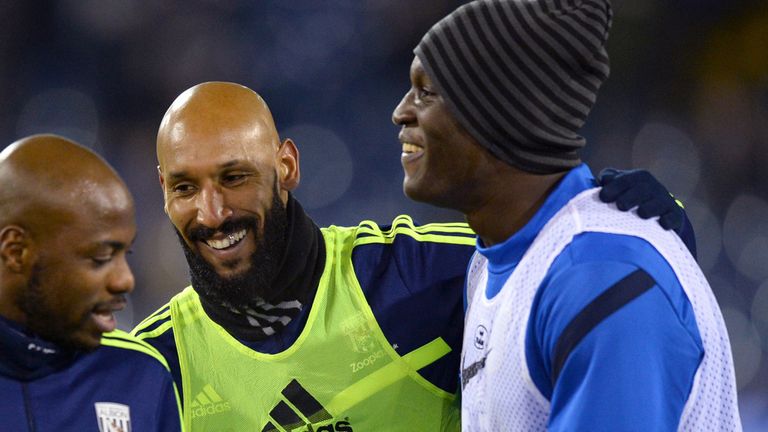 Anelka has until 6pm today to respond to an FA misconduct charge over his use of the 'quenelle' - a gesture originating in France which some associate with anti-Semitism.
The West Brom striker insists the gesture was meant only as an anti-establishment protest and Lukaku this week called on the authorities not to issue a suspension.
Now Martinez wants to make it clear his on-loan forward was speaking in support of his former Chelsea team-mate rather than the 'quenelle' itself.
He said: "Romelu wanted to support a team-mate or an ex-team-mate, but obviously he understands there's been a big misunderstanding.
"He never supported any conflicting views that could be disrespectful to anyone. That's not the type of person he is."
Anelka, who faces a minimum five-match ban if he is found guilty, has asked the FA to withdraw its charge and believes he has the backing of Roger Cukierman - the president of the Representative Council of Jewish Institutions in France.
Cukierman had said the gesture could be viewed as anti-establishment but has now distanced himself from those comments and says the gesture was clearly suspect and he did not want to be an expert in this case.
A three-man independent regulatory commission will now be appointed by the FA to deal with the case, deciding either on a sanction or to hold a disciplinary hearing if Anelka submits an appeal.
The striker's defence found no favour in other quarters, with the Board of Deputies of British Jews citing his apparent lack of remorse.
Vice-president Jonathan Arkush said: "I know under the rules that on a first-time offence there is a minimum five-game suspension but I think what he did was sufficiently serious to justify a longer suspension than five matches.
"He has not indicated one bit of remorse or regret or apologised for his actions. He has simply said he wouldn't do it again and that is not good enough."