Everton's Ross Barkley rated as 'one in a million' by Roberto Martinez
Roberto Martinez says Ross Barkley is 'one in a million', with a mentality that sets him apart from other Englishmen.
Last Updated: 25/01/14 1:09pm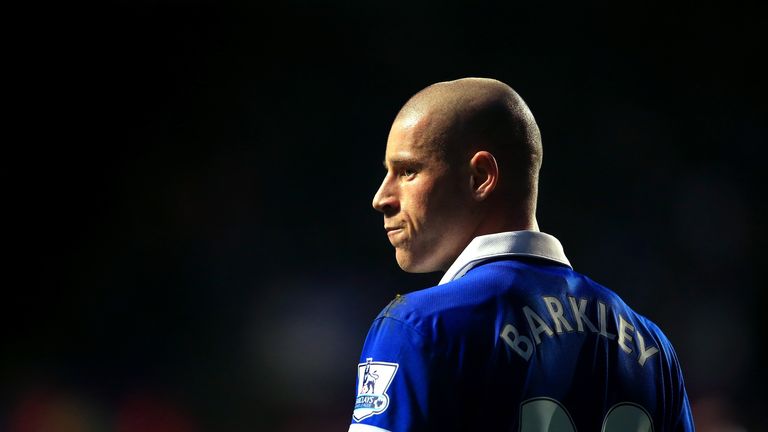 Barkley has emerged as one of the most exciting young prospects in the Premier League over the past couple of seasons, and has flourished particularly in the last few months since Martinez took charge at Goodison Park.
Martinez believes the midfielder possesses all the qualities to succeed at the highest level, but says it is the attitude of the 20-year-old that makes him special.
"What impresses me is the mentality," Martinez said in the Daily Mail. "You can talk about talent, about physicality. He has the physical elements of the British game. The intensity and the power. But Ross also has the touch of someone brought up in a different culture.
"You've got a cool character; such an emotionally stable character. And that is what sets him apart. Whether he is playing for England at Wembley, or the opening game of the season against Norwich, or a friendly behind closed doors, his approach will be the same.
"And it's the same after someone has kicked him or he has made a good pass. Only the top guys are like this.
"Nothing fazes Ross. That temperament, I'm not sure we've seen that too often over the years
"For some reason, the English talent is often the naughty boy. It's a short fuse, or he gets into some kind of trouble. Drinking, smoking.
"Ross is the opposite. I think partly because he had a big injury at 17 (he broke his leg in three places). All of a sudden, something took it all away from him. He realised what he could lose. But home is good too. He's well-grounded. His mum is a great influence. He's one in a million."
Martinez is a huge fan of English football but admits it is frustrating that many young talents do not progress in the same way as Barkley.
"I don't blame the individual but the system," he explained.
"We've given our young players too much, too early. We say to someone of 18, 'Yeah, you are going to make it as a top professional; so here you go, big contract'. So at 19, 20, 21, he's going to go to the bookies, smoke, drink. I think the ones who don't do those things are the exception, and doesn't that say the environment is wrong?
"In Spain, for every 10 great talents one is a bit of a nutcase, if you like. Here it is the opposite. But, as I say, I don't think you can blame the individual. I think it's a problem with the system here. The system, to develop a young player, is not demanding enough.
"From the start to 18, we are the best in the world. Maybe too good. With the academies, with the facilities, too good. We give them too much. We even bring the teacher into the academies, so they don't have to go to school. Too easy.
"But the development from 19 to 22 is definitely not good enough. The FA and the Premier League are trying to address it. They are doing some great work. But we are not there yet.
"The environment, particularly the Under-21 league, is not competitive enough. Big professional contracts are being given way too soon and the environment they are in is wrong.
"Sometimes a club then tries to develop a player by sending him out on loan. But then he is out of your hands, possibly working a different way."
Martinez spent a long time reading about the history of Everton when he became manager in the summer, and is determined to bring the glory days back to the club.
He said: "Everton have won the title nine times. Not many football clubs have done that, and not many players here would have realised that.
"I hope it inspires everyone here to want to win it again. How realistic that is right now remains to be seen but we should all have that aspiration. If you don't have that vision and direction you will never get there."