World Cup: Injured Everton winger Bryan Oviedo still hopeful of playing for Costa Rica in Brazil
Injured Everton winger Bryan Oviedo is determined not to give up on his World Cup dream, despite his double leg-break.
Last Updated: 28/01/14 10:43am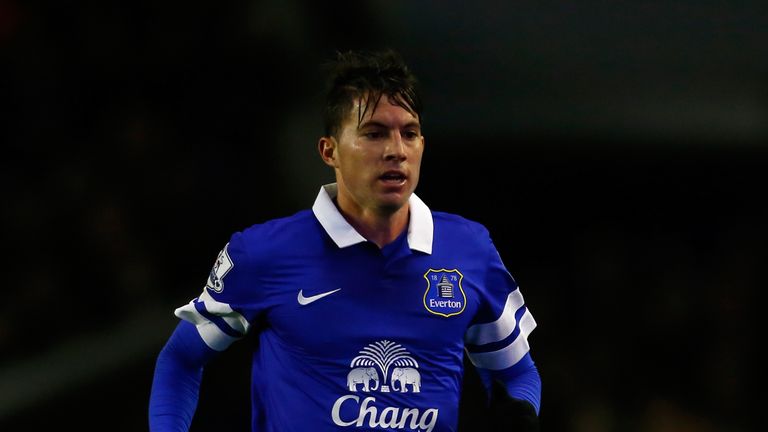 The Costa Rica international sustained a terrible double fracture to his left leg in Saturday's 4-0 FA Cup win at Stevenage.
The 23-year-old had surgery on Monday but will face a battle against time to be ready for the World Cup in the summer.
The winger told The Sun: "Ever since it happened, I've been thinking about the World Cup. I have to remain calm but, in the hands of God, I will be ready for it.
"If I am back in time for the finals, then great. But, if not, then the world won't stop turning. I have already missed a tournament through injury before.
"You learn from experiences like this. You take knocks in life but the key is to be strong and to fight back."
Although Oviedo is generally considered a winger, he has provided great cover for Leighton Baines at left-back and has proved to be very versatile for Roberto Martinez.
He joined the Toffees from Copenhagen in summer 2012, and in his first season he was mainly considered as a squad player with 15 appearances in the league, 14 of them coming off the bench. This season, he has featured more regularly in the Everton side.
Referring back to his injury, sustained whilst trying to block a shot from Boro's Simon Heslop, he added: "It was an accident and part of my job. I could make a similar challenge 100 times and nothing would go wrong - but these things happen.
"It was very hard. I felt a shudder go through my entire body, turned round to look at my leg and saw it distorted.
"Kevin Mirallas came over to calm me down but he was in tears. I knew then that something was seriously wrong."
Oviedo has proved his worth in the Premier League, scoring in the 4-0 victory over Stoke at Goodison Park at the end of November before netting the winner at Manchester United four days later.
He was beginning to stake a regular claim in the Everton starting XI, but it will now be a long time before he will be back to full fitness.
"All sorts of thoughts went through my head," explained Oviedo. "It wasn't too uncomfortable at first but I then felt very strong pain and tried to endure it.
"I thought about everything, my father, the World Cup. The minutes felt like hours.
"It is a real blow to my hopes and it is painful for me just to look at the images.
"I have tried to stay strong and positive but I don't want to watch the video of the incident. I don't think I will ever want to see it."