Everton attacker Kevin Mirallas and Roberto Martinez point to change in mentality
Kevin Mirallas believes that his mentality has changed to enable him to become an influential figure for Everton.
Last Updated: 03/02/14 11:29am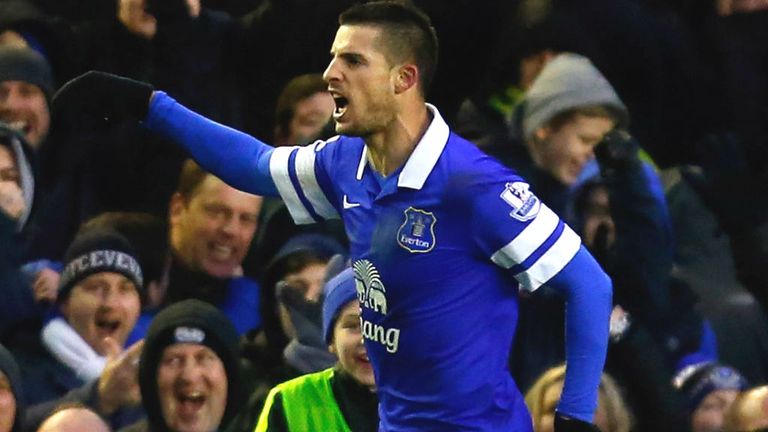 The Belgium international started 23 games in the Premier League last term following his arrival from Olympiakos and weighed in with six goals.
This season, Mirallas has featured in all 24 league fixtures under Roberto Martinez, starting 21 times, and his winner against Aston Villa on Saturday was his fifth goal of the campaign.
The 26-year-old credits a conversation with his father for his improvement and he feels he is now in a position to perform more consistently.
"My mentality changed," said Mirallas. "I can play strong and well in every game now. Before it was one game well, two games not so good. Now I can play well consistently in five games.
"I spoke with the manager and I spoke with my father. Dad told me that I had good quality but sometimes my mentality wasn't good and that had to change.
"I spoke to some of the other players too. But it was my father Jose who made the difference for me. He came here to see me in December and helped me."
Martinez, who replaced David Moyes as Everton manager last summer, also pinpointed a difference in mentality behind Mirallas' form this season.
"It has been a change in Kevin's mentality," said Martinez. "Earlier in the season he was a player helping the team but now he is desperate to set standards week in, week out.
"And that, for a striker or attacking player, is very rare and that is why I had no problems of playing him in a different position and moving him around because I think he has that maturity now.
"I have seen the change in him in the second or third month and he has become a different footballer.
"It is just that mentality of knowing how important he is for our football club and the squad. As a footballer you sometimes just go through the motions, show your talent and help the team. But when you become a bit more experienced and mature you become a player who sets standards week in, week out. You see that with Tim Howard, Phil Jagielka, Leighton Baines and Kevin now is in that stage of his career.
"It is quite interesting when you see that over the course of a six or seven-month period."