Premier League: Tim Howard praises Everton boss Roberto Martinez
Tim Howard has paid tribute to the methods of manager Roberto Martinez, with the Everton squad brimming with belief.
Last Updated: 08/02/14 12:38pm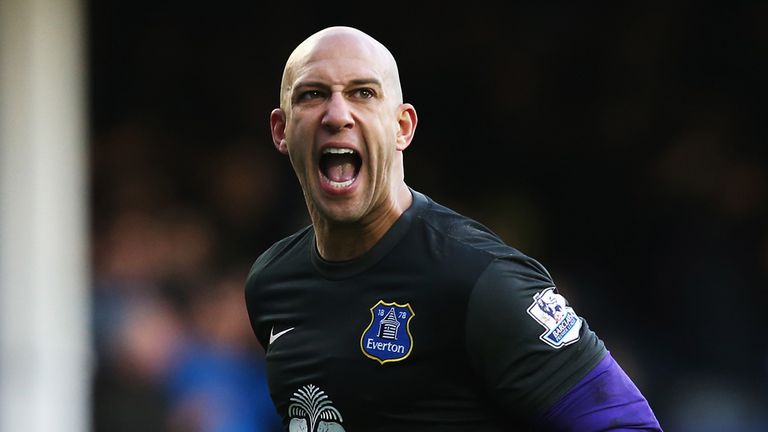 Since succeeding David Moyes at Goodison Park, Martinez has helped to build on the foundations put down by his predecessor.
The Toffees are very much in the hunt for a top-four finish, with just two points separating them from arch-rivals Liverpool and a place in the UEFA Champions League spots.
Howard credits Martinez with having pushed Everton back towards that elite group, with the Merseyside outfit playing without fear.
The American goalkeeper said: "No matter what game we go into, the focus has not at any point this season been on the other team - it has always been about us.
"You have to do this 40 weeks of the year, it is nice not to come into work every day thinking 'Oh, that's looming ahead'.
"The manager keeps us bright and bubbly and focused on ourselves. Not always having to look over your shoulder at who is coming next is good.
"We work on ourselves and it's a difference. The manager will have some specific areas in which he thinks Tottenham are weak, or Sunderland, Crystal Palace or whoever are weak.
"We'll train on trying to exploit them, as opposed to 'Here is what they are going to do to hurt us and this is what we are going to do to defend against them'. That is not in the manager's nature.
"The way his mind works, it is like the move A Beautiful Mind. He always sees holes in the other team. He doesn't see the danger, he seeks the weaknesses and gets us working on that.
"We have a pattern to our play and a style that we all believe in and we have seen that it works.
"The positive for me is that every time we step on the pitch we know how we are going to win."