Premier League: Everton's Romelu Lukaku keen to play in Champions League
Everton's on-loan striker Romelu Lukaku has spoken of his desire to play in the Champions League.
By Kristof Terreur
Last Updated: 11/02/14 11:52am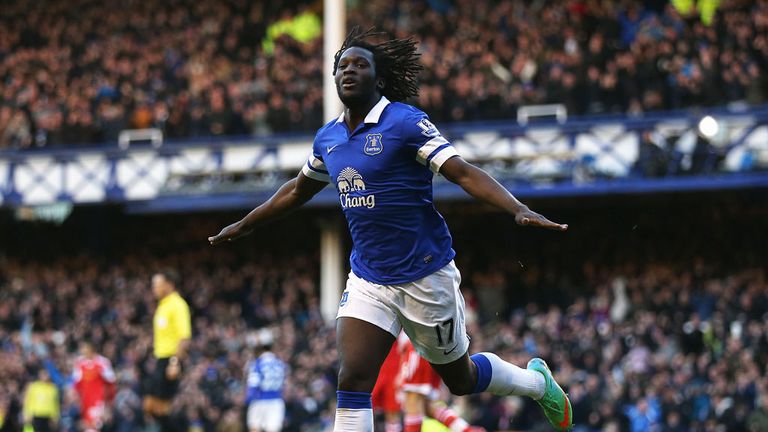 The Belgium international, who is on a season-long loan at Goodison Park from Chelsea, has scored nine goals in 20 appearances for the Toffees in all competitions this season, and says he now feels ready to play amongst Europe's elite.
The 20-year-old wants to follow in the footsteps of compatriots Vincent Kompany and Eden Hazard and make an impact at the highest level.
Lukaku was farmed out to West Brom by the Blues last season and scored 17 times in the Premier League.
Speaking to Belgian newspaper Het Laatste Nieuws, he said: "I'm still young but I've no time to waste. The only player who can make a better player of me, is me. I want to be successful, an ambition I share with Vincent Kompany and Eden Hazard.
"I want to be a top player and I also think I can shout that out. I've scored a lot of goals, but I haven't won many titles or cups yet. I want to win something.
"I still have two years on my contract in Chelsea and I know they're tracking my evolution. In the end, it's up to the manager to decide.
"If I become a better player than last season, who'll stop me? It's also time for me to play Champions League, and that's what I want.
"When I turn 21, I'll have been a professional for five years, I need this in my evolution. Cristiano Ronaldo and Wayne Rooney were already in the Champions League when they were 23 or 24. I don't want to play my first games in the Champions League when I'm 23, I want it now. I have to show now that I'm ready."
Lukaku is currently recovering from an ankle injury he picked up in the 4-0 Merseyside derby defeat at Liverpool, and manager Roberto Martinez revealed in his press conference on Tuesday that he hopes the Belgian will be able return to action soon.
Speaking of his ankle knock, Lukaku said: "I knew the injury wasn't that serious as first feared, although they had to take me off on a stretcher.
"In the end, it seemed so. I'm now focused on one thing: coming back as fast as possible. I really look after my food, I sleep well and I take a lot of time to rest.
"I don't think it'll take a long time to find my level back. I've more self-confidence than I've ever had. I know my qualities, but I also know what I have to do to be top."