Roberto Martinez will not be rushed into talks about Ross Barkley's Everton future
Everton boss Roberto Martinez will wait until the end of the season before he discusses Ross Barkley's contract.
Last Updated: 14/02/14 6:03pm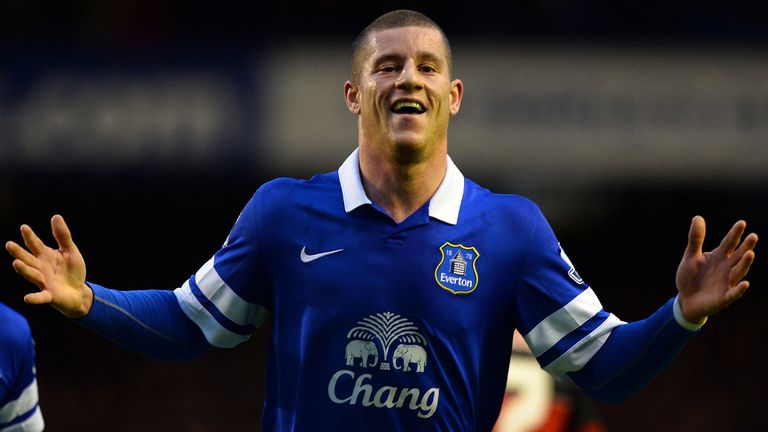 The 20-year-old midfielder has made impressive progress this season, emerging as a key player for the Toffees in their pursuit of a lofty Premier League finish.
Barkley has been playing through the pain in recent weeks after suffering a broken toe, but is still expected to be available for Sunday's FA Cup fifth round tie against Swansea.
Martinez is delighted with Barkley's attitude, but is carefully nurturing his career and will not be rushed into decisions about his fitness or future at Goodison Park.
"I'm really, really pleased the way he's putting himself up for the games and he wants to be ready, but Ross is going to be vital for us in this final third. We need to make sure that we use him wisely and we use him always 100 per cent," he said.
When asked for an update about Barkley's contract, Martinez said: "No, everything is still the same behind the scenes. As we mentioned it's always the case.
"We'll always reward the players that deserve it and obviously Ross is one of those."
Barkley was used only as a late substitute in last weekend's 1-0 defeat by Tottenham and appeared to be feeling the effects of his injury in the 2-1 win over Aston Villa.
Martinez admits he may have rushed the youngster back into the first-team too soon.
"Ross is so eager to play and to make himself available. I did bring him back too early, especially the game against Aston Villa.
"When you come back you get through the adrenaline and you're okay. When you need to rest from that first game you need a bit more time.
"Probably against Aston Villa at home it was too early for him to start the game, but he's such a joy to work with and we need to make sure that now he's fully recovered, he's fully refreshed and he's ready to have a massive role from now until the end of the season."
Deulofeu
Gerard Deulofeu is another youngster who has performed well for Everton since joining on a season-long loan from Barcelona.
Everton could face competition if they want the 19-year-old for another temporary spell, with AC Milan also linked with Deulofeu, but Martinez will not hold contract talks with anyone during a crucial stage of the campaign.
"This is not the time," he said. "Now we are starting the most exciting moment of the season. We are going into the final third. I think the team has been developing really quickly and really well.
"All the players, whichever the situation they have in their contracts, all they are looking at is to be at their best. To be ready to help the team and to make sure as a group we finish as strong as we can.
"In the summer we'll look at every situation. That doesn't mean only the players that are in short-term contracts. All the players need to be reviewed, their position, and looking at their performances and where they are and making sure from season-to-season we get as strong as we can be."
Martinez insists his sole focus is on this weekend's visit of Swansea and the Spaniard is expecting a free-flowing game of attacking football.
"We are facing a very much welcome distraction with the FA Cup," he said. "The fifth round is always an exciting moment in this competition.
"We're playing at home and we know it's going to be entertaining, open and a game of real technical quality, so very much an important stage of the season for us."