Premier League: Everton's Leighton Baines calls for Ross Barkley to be given time
Everton's Leighton Baines has called for Ross Barkley to be given time in which to fully recover his fitness and form.
Last Updated: 24/02/14 1:19pm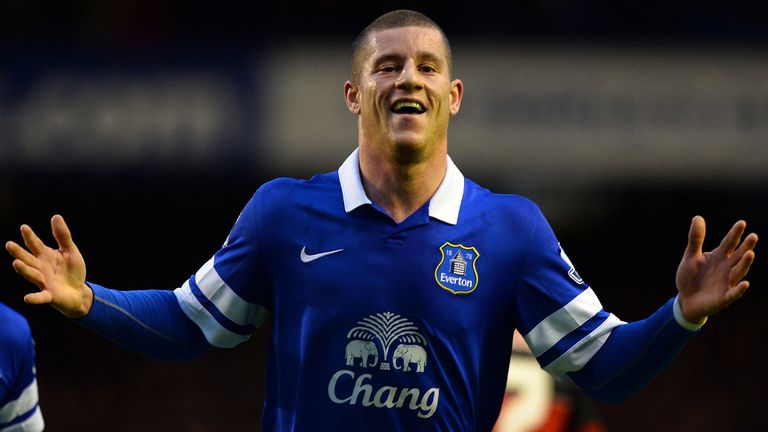 The 20-year-old midfielder is considered to be one of the hottest prospects in English football, with regular Premier League action and international recognition having come his way in 2013/14.
He is, however, still learning his trade at the very highest level and saw his progress disrupted by a broken toe in early January.
A frustrating afternoon for the Toffees at Chelsea on Saturday saw Barkley struggle to make an impact after stepping off the bench, with little going his way during a 26-minute cameo.
Baines is aware that expectations around the youngster have risen considerably and that any dips will be dissected in detail, but he is convinced that undoubted potential will be fulfilled if his fellow England international is nurtured in the right way.
He told the Liverpool Echo after a 1-0 defeat at Stamford Bridge: "Over the course of a season every young player's form will fluctuate, usually more when you are young because you are still learning and developing.
"What we have to do is be careful not to weigh him down with too much expectancy this early in his career.
"Ross is still going through these development years and discovering new things. The great thing for him is that this season he has had more football than before and been allowed to grow in that way, and both us and him will see the fruits of that further down the line.
"I've been in the same boat this season with a similar injury and there is still pain after you come back. We need to show him patience and understanding."
Not much went right for Everton in their latest Premier League outing, as they came unstuck in stoppage time, but Baines believes there are plenty of positives heading forward.
He added: "We've been to all of the big grounds and acquitted ourselves really well - we've been the better side more often than not. That's a positive, but we've got to get more clinical in the final third.
"There were good options to come off the bench - attacking ones like Aiden (McGeady) and Gerry (Deulofeu) and Rom (Lukaku) will be coming back. There's plenty of options there.
"Unfortunately, Lacina (Traore) pulled up just before the game and had to pull out, but hopefully it won't be too serious and we'll have him back soon as well."