Everton defender Leighton Baines hoping to go all the way in FA Cup
Leighton Baines has set his sights on knocking Arsenal out of the FA Cup and ending Everton's wait for silverware.
Last Updated: 07/03/14 9:26am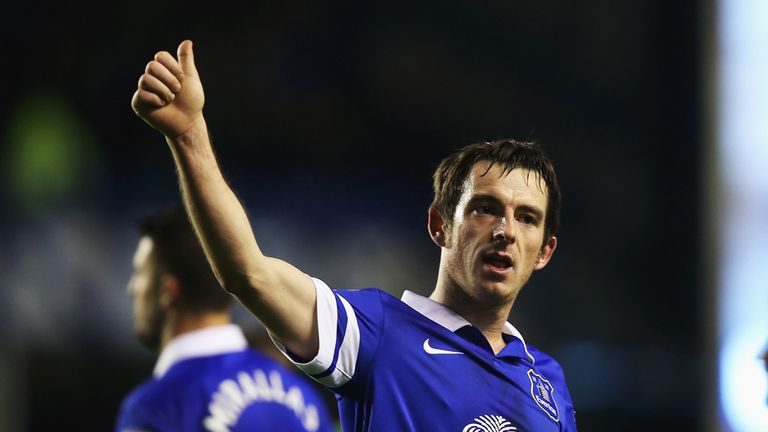 Everton make the trip to the Emirates on Saturday in their FA Cup quarter-final aiming to take a step closer to Wembley and in the process end Arsenal's hopes.
Baines admits the Arsenal game is massive for Everton after falling off the pace for a top-four finish in recent weeks and he insists everyone at the club is driven to win their first piece of silverware since 1995 by going all the way in the FA Cup.
"We are now outsiders for the top four because Liverpool and Tottenham are ahead of us, but the cup game against Arsenal is massive," said Baines. "You would be a fool to look too far beyond that but there is no denying that we want to win a trophy.
"We want that in the dressing room and, ultimately, that is the aim. We know the task is a big one but you have to set yourselves targets and that is one of them.
"We don't speak about it among ourselves in great detail, but we are all conscious of it. We all know.
"A lot of us have been here a long time and we know what it means to this football club. We have been close a couple of times.
"You can't be a club of this size, be as supported as well as we are and have the hunger among the fans, and the football club, and not win things.
"All the lads know that if we can achieve something like that, if we can bring something like that home, then you go down in history and folklore.
"I think that is the driving force for a lot of us here. We are desperate to do that."
Baines believes Everton can take great encouragement from their performance against Arsenal in the Premier League earlier this season when they earned a 1-1 draw at the Emirates in December.
"We played well down there in the league and we can take heart and confidence from a lot of the games we've played against the big teams - Man United, Arsenal, Chelsea," added Baines.
"We've performed well in all of those games and probably deserved a bit more than what we've got from them. Mentally, that gives us a reference point in terms of we know we can go there and have the freedom to express ourselves.
"We've just got to try and be a bit more ruthless.
"We have been a bit unlucky really in a couple of the games where our performances have warranted getting something and we haven't."
Baines also believes the pressure is on Arsenal going into the game as they also look to end their nine-year wait for a trophy.
"I guess the landscape has shifted for them (Arsenal) over the last few weeks. I think everyone knew it was an important period for them and they were under a bit of pressure in that sense.
"Obviously they're up against it in the Champions League and they've lost a bit of ground in the Premier League. So they'll be looking at the Cup in the same light as a lot of the other teams who are still in it in that you're not far away from a semi-final at Wembley and a final.
"That makes this a big game because it's probably the closest either side is going to be to silverware."