Premier League: Leighton Baines says Everton need to maintain attacking intent
Leighton Baines insists that Everton should not think about compromising their new attack-minded style.
Last Updated: 11/03/14 2:23pm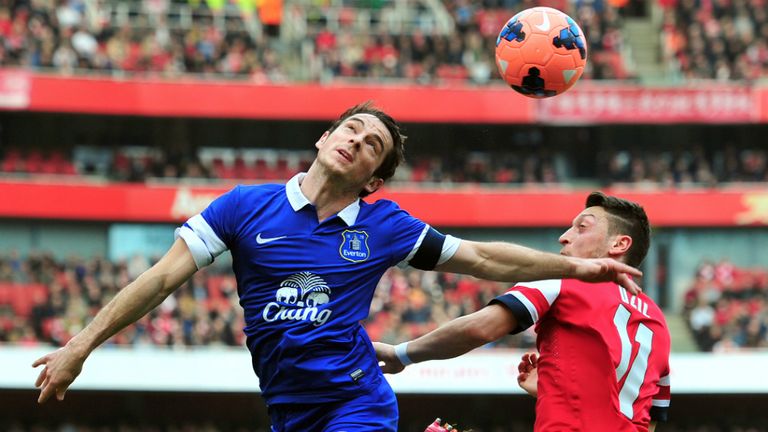 Everton's constant forays forward saw them caught out at the weekend as they went down 4-1 to Arsenal in their FA Cup quarter-final.
But Baines is not worried by their heavy defeat and insists that Everton need to maintain their attacking intent.
"When we're chasing the game and we go 2-1 down we try to attack. Always we try to attack because we're an attacking team but we've got to get the balance right so that we can't get countered on," he told the Liverpool Echo.
"Even at 2-1 down I actually felt we were going to win the game. We were having our best spell and I felt we were going to go on and win it.
"But then we got done and the fourth was a counter-attack when we're up in their half, probably should make a pass, and before you know it within four or five passes they've scored a goal which you've got to give them credit for. They're a good side.
"The nature of our play is that we are a bit expansive at times but it's something we don't want to compromise on. We just want to get better at it, and ultimately that will lead us to getting better results.
"We're sticking to our guns and our style. We're buying into it and trying to improve every day. It's got to be a collective thing."
Baines says Everton need to bounce back quickly in the coming weeks.
"We've got a couple of home games now that we know we're capable of winning and that we probably know we must win in terms of having a push for the back end of the season with just the league to focus on," he said.
"We want to finish strongly and those two games will hopefully be a platform we can build on.
"We've got to get it out of our system. It's out job as players and professional footballers to not wallow in it too long and find a way to move on."