World Cup: Everton's Bryan Oviedo could be fit for global showpiece
Everton's Bryan Oviedo has been backed by Roberto Martinez to complete a remarkable recovery in time for the World Cup.
Last Updated: 14/03/14 9:26am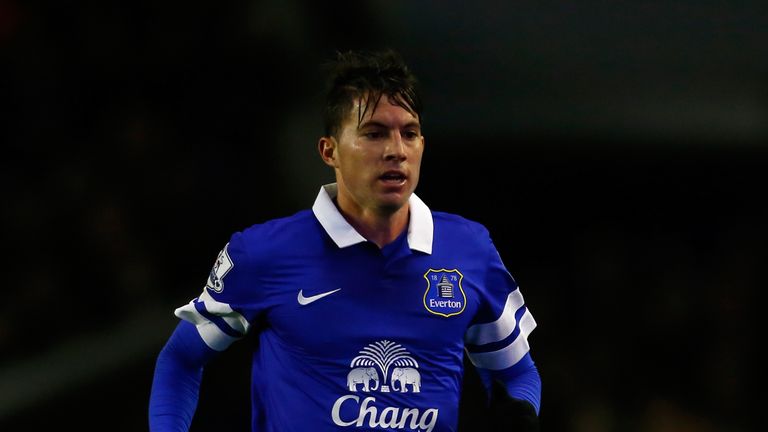 The Costa Rica international suffered a double leg fracture during an FA Cup clash with Stevenage on 25th January to seemingly dash his dreams of gracing this summer's showpiece in Brazil.
He is, however, already back in the gym after racing through his rehabilitation programme quicker than expected.
There is now every chance that Oviedo will come back into contention for selection by his country and that he could line up against England in Belo Horizonte on 24th June.
Martinez, who has spoken with leading consultant Andy Williams about Oviedo's fitness, said: "Bryan is well ahead in his recovery time.
"We have sent him back to Costa Rica because we are working with the national team who want to assess him.
"He saw an independent specialist in London before he went away and the specialist feels he can make the World Cup. That would be an incredible statement given he suffered the injury only six weeks ago at Stevenage.
"The World Cup is an incredible opportunity for him so that is why we are working together with the national team to try and get him fully fit. He will be in Costa Rica for the next two weeks and then will come back here.
"We are going to send some of our medical department over to Costa Rica with him because we want to do everything we can for him."
Martinez added on a man who has made 13 appearances for the Toffees this season, netting twice: "For a player to go through an injury like that and make a World Cup would mean so much.
"We want that to happen, I certainly wouldn't stand in the way of that. He deserves it to happen.
"We would get a better player back at Everton if Bryan has played in the World Cup. Physically he is a machine, so I would have no concerns over that. The surgery went really well and he is better than we could have hoped at this stage.
"There is no reason for us to feel it is a risk him going to the World Cup but we just hope that Costa Rica can use him, otherwise it would be pointless them taking him."