Everton's John Stones piles praise on Ross Barkley after Newcastle victory
John Stones insists he will remember Ross Barkley's stunning goal despite needing head stitches at St James' Park.
Last Updated: 26/03/14 6:30pm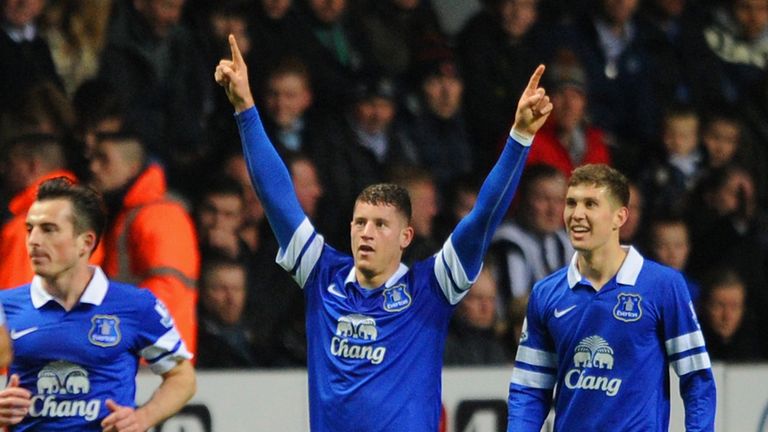 Stones was forced to play over half of the match with heavily-bandaged strapping after he was left covered in blood following an aerial collision with Newcastle forward Luuk de Jong.
The former Barnsley defender battled on bravely as the Blues produced their first away victory of the calendar year to keep pressure on Arsenal in their pursuit of a Champions League place.
England midfielder Barkley opened the scoring midway through the first half as he ran 70 yards before firing into the roof of Tim Krul's net - and Stones hailed the talent of his 20-year-old colleague.
"It hasn't affected my memory of Ross' goal," he told the Liverpool Echo. "I won't forget that. It was a brilliant goal for Ross.
"As modest as he is, he's loving it. He does stuff like that on a daily basis - out of the ordinary. We've just been waiting for him to do that in a game.
"Once he gets off on a run you're not stopping him. He's a powerful guy. I'm glad he got his goal and it's one to remember for him."
Brilliant
The centre-back, who started the move for Barkley's goal, added: "He works so hard and he's reaping the benefits.
"He did something similar against Arsenal. He's been brilliant, I can't praise him enough for how hard he's working for the team and that goal was a bit of success for him."
Stones was forced to retreat to the away dressing room in the first half, where he received 10 stitches to the forehead, before returning to complete the match and the 19-year-old admits he is feeling fine.
"The head is fine - I'm all good," he claimed. "I looked down at the floor and thought 'I'm sweating here' but I was bleeding.
"The medical staff did a really good job and I was back on the pitch really quick.
"A lot of credit to them. It was a quick job and then at half-time they stitched me up and I was good to go again. As soon as I did it I was fine but I ran back out and I had a big headache."