Premier League: James McCarthy excited for Everton's clash with Arsenal
Last Updated: 06/04/14 12:48pm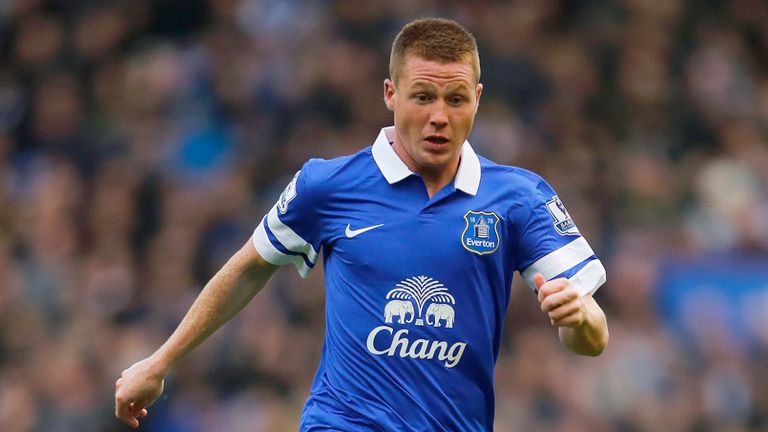 James McCarthy believes the lure of the Champions League will prompt Everton into a big performance against Arsenal.
Five wins on the bounce have taken Roberto Martinez's side within four points of the Gunners, with a game in hand, and victory over their chief rivals at Goodison Park on Sunday would leave them in pole position for a top-four berth.
They are also looking to avenge their exit from the FA Cup at the hands of Arsene Wenger's men last month, one of few blips in their recent form.
"Arsenal at home is going to be a big one," the Republic of Ireland midfielder told evertontv. "I'm sure the fans will come out in their numbers, hopefully we can put things right from last time we played them and push for that Champions League spot.
"They put us out of the cup and it is never nice to get beat. It's going to be a big ask but we will give it our best shot.
"It's in the balance and if we want it, it's there in front of us, we can go and give it our best shot. As a squad we believe we can do it but there is a long way to go.
"You need to enjoy the occasion and the challenge. If you don't then you are in the wrong game to be fair."
Martinez believes his side has learned a lot in the last couple of months, especially in their rare defeats.
"I don't think it goes down to the cup game (against Arsenal), if I'm honest I think it goes a little bit further than that," the Spaniard told the Liverpool Echo.
"We had two outstanding performances (both ending in 1-0 defeats) against Spurs and Chelsea and couldn't reflect that in the scoreline.
"It was a real focus of the group to learn from that and a maturity to know how to affect scorelines when you play well.
"It's fair to say in the last five league games we have not been fantastic in every game but we have found a way to be competitive and know what to do during the game and make sure the results have been positive.
"We are delighted with the return of points at this stage of the season and we have another 21 points to fight for. We have four fixtures at home and we are very excited about that.
"We know Arsenal are a phenomenal side but we will give it everything we've got and the support of our fans will make a difference."